If your child is over the age of two, you may be looking to send them to a nursery before they go to primary school. At this age (22 to 36 months), they should be in a more structured environment because the routine enables them to become more confident and aware of the world around them.
Selecting a nursery for your child is one of the most important decisions you will make because it will affect their development at a crucial age. For this reason, the process of choosing a nursery is often incredibly overwhelming to parents because they may be unsure about the essential considerations.
To help ensure you choose the right toddlers' nursery for your child, read on for three things to consider when looking for a nursery for your two-year-old.
1. Staff
More than anything, you want to ensure that you are choosing a nursery that has the best team possible. In addition to them being qualified for their positions, you also want a nursery that has continuity in staffing. Having the same carers regularly is crucial for children at this age because it helps them to develop strong bonds, which is a critical aspect of their development.
Therefore, make sure to ask a potential nursery about their staff turnover rate, and whether or not they take a "key person" approach. This is when a specific carer is named as being responsible for your child's well-being and development. You want your chosen nursery to have a strong relationship with you – as the parent – so ask about the possible opportunities for parents to be involved. Make sure you know how they will update you about your child's progress.
While you are visiting a nursery, make sure to observe how staff interact with children. It should be friendly, compassionate, and understanding of each child's individual needs.
2. Class Sizes
Ideally, you want to look for a nursery that offers a variety of group sizes throughout the day. For example, during some activities, children will be in larger groups, while for other occasions they are in smaller groups, and then other times they have 1:1 experiences with a teacher. This variety in activity group sizes helps your child to learn how to act and interact in various settings.
While on your nursery tour, make sure to inquire about the number of children who attend the daycare, as well as the child-to-caregiver ratio. You should also ask what a typical day looks like and how they handle discipline or behavioural problems.
Don't forget to ask about how, and how often, they sanitize the toys and materials used by the children, as well as their sick-child policy. On that subject, find out the nursery's policy for when your child misses a day due to vacation or illness, and what their visitation policies are. Will you be able to drop by whenever you want?
3. Activity Offerings
At this age, children still learn best through play-based approaches rather than formal teaching. Therefore, you want to ensure that the nursery you select utilizes play to support your child's social, emotional, cognitive, and physical development. The best play-based approaches also help young children to learn how to cooperate, negotiate, and overcome challenges.
To get a better sense of a nursery's ability to do this, make sure you ask how the staff encourage skills through play and how they will plan activities that will specifically help your child.
In order for parents and teachers to support their health and development, children at this age need to be physically active, so the nursery you choose must encourage your child's physical development. Take into account whether or not a potential nursery has outdoor space for play as well as indoor space.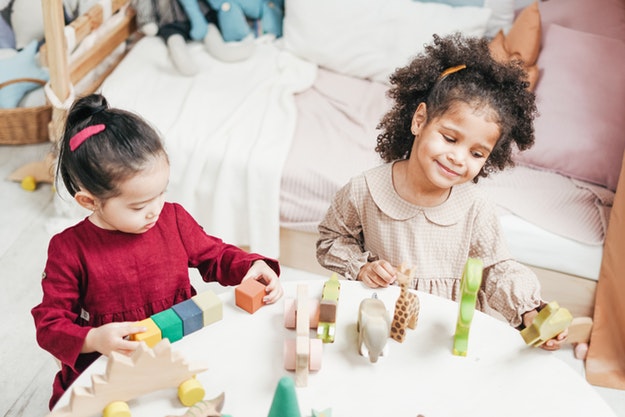 For example, at Child's Play Nursery, children are stimulated through a wide range of activities ranging from phonics to music and movement, from dance to painting, from creative activities to messy play. They are also able to spend time playing in sand and water, with tabletop activities, and much more. Additionally, the nursery offers a quiet area where children can go for quiet activities or storytelling if they do not require a nap in the middle of the day.
Final Thoughts
The last thing you want to do is to send your young child to a nursery that you don't feel confident about. Therefore, you must do thorough research before you select a nursery because the quality of that experience is critical to your child's development.
When you have narrowed down your list of potential nurseries, make sure to go and visit each one so that you can have a first-hand experience of what they are like. While you are on the premises, take your time, ask lots of questions, and observe the day-to-day flow and life in the nursery. By taking into account the considerations listed above, you will be in the best position to choose the perfect nursery for your child.
Author Bio
Alan Williamson is the Chief Education Officer at Kings' Education, a premium school brand in Dubai which leads a fantastic group of premium UK curriculum schools, including Child's Play Nursery. As well as being passionate about teaching and learning, Alan has been actively involved in school leadership related to Special Educational Needs.