In Dubai, heading to a waterpark is a great way to cool off from the heat of the desert city. Aside from refreshing swimming pools, these waterparks also have several other attractions for people to enjoy, including artificial waves and wild slides. They can also accommodate those who want to get some rest and relaxation at their cool cabanas and lazy rivers.
Whether you're bringing friends or going with your family, be sure to get as much information about the waterpark as you can possibly get. Safety is also essential in making your trip more enjoyable.
Follow these 11 safety rules on your next  waterpark visit, so you can expect a stress- and risk-free break:
1. Follow Park Regulations
Waterparks are places for fun and relaxation, but this doesn't necessarily mean that they don't have any rules that you must follow. Remember that rules are there for a reason. In the case of waterparks, regulations are imposed to ensure the safety and security of their guests.
For example, height or age restrictions are set to prevent people from going into sections of a pool that may be too deep for them. This rule also applies to other park attractions like high water slides that can be too dangerous for small children.
The "No Diving" sign is also a significant rule that can help you avoid injury. It serves as a warning that indicates whether certain areas in the pool are shallower than they seem.
Aside from these, there are also strong recommendations on how to use waterpark amenities. For example, some establishments require people to go down water slides with their feet first and face up. This is to ensure that their heads and necks are protected as sliders approach the water.
If you're going to the waterpark with children, make sure that they are well-informed of the rules before you let them loose. Also, always make sure that adults accompany the little ones at all times.
2. Avoid Running Around Pools
Some waterparks have rules against running around pools while others don't. Although it is expected that you might get caught up in the excitement of being at the park, you mustn't go running around, especially along the sides of the pool and other areas that can be slippery.
Decks and sidewalks might also be wet from all the people walking around in dripping clothes, so be sure to take slower strides.
3. Dress for the Occasion
When spending a day at a waterpark, there is a high probability that you'll be out in the open, under the heat of the sun, all day. To protect yourself from the hot rays of the sun, pick the appropriate clothing for the occasion.
Aside from swimming outfits, you must also bring wear water shoes, a hat, a loose shirt, and sunglasses to stay cool under the heat.
4. Keep a Close Eye on Young Ones
Adults must always accompany children at a waterpark. As much as possible, make sure that you know where the little ones are at all times. This rule also applies to pre-teens and teenagers.
Even if a lifeguard is on duty, you mustn't let your children swim alone. Remember that lifeguards are covering a big area and might miss a child going under the water. As the accompanying adult, it is your responsibility to ensure your child's well-being.
5. Don't Forget to Protect Yourself From the Sun
Aside from wearing the proper outfit, protecting yourself from the sun also means you have to apply sunscreen on your skin. For optimal effectiveness, use sunscreen 30 minutes prior to exposure to sunlight and reapply it every 80 minutes throughout the rest of the day. Reapplication should be done regularly, especially if you've been swimming in the water or have dried yourself using a towel.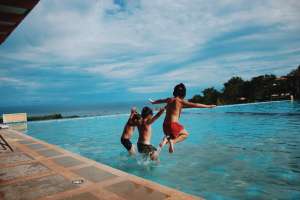 6. Arrive Early
After buying your waterpark tickets, the next thing you must do is to plan for the trip, including the timing of your arrival. This aspect of the trip is particularly crucial when you're bringing kids to the waterpark as it can help you avoid crowds of people already swimming at the pool.
Ideally, you must set your arrival to 30 minutes prior to the opening of the waterpark. Not only will there be fewer people during this time, but you will also get to secure a better parking spot and enjoy a more pleasant temperature while in the water.
7. Hydrate Frequently
While you'll be surrounded by water, spending a day at a waterpark still increases your risk of getting dehydrated. This is because you'll be spending a huge amount of time under direct sunlight, which might cause you to sweat more than you normally would under the shade.
When hydrating, choose water over everything else. Caffeinated or carbonated drinks can do more damage than good. This is because caffeine is a diuretic, which means you'll feel the need to urinate more often.
Remember that you'll need to hydrate more often since you'll also be sweating a lot more when at a waterpark.
8. Consider Wearing a Life Vest
Wearing a life vest is essential for children and people who don't know how to swim. However, you must remember that these devices, as well as inflatable swimming rings and floaties, cannot replace adult supervision. Again, never leave children unattended while at a waterpark.
9. Watch Out for Safety Red Flags
There are four "toos" you need to look out for that can serve as the safety red flags when at a waterpark. This includes getting too tired, too exposed to the sun, too cold, or too far from the safety line.
When you hear children saying these words, or if your instincts tell you that someone is experiencing them, take appropriate action immediately.
10. Don't Go Beyond Your Limits
While it is good to be brave, you shouldn't go beyond your limits when at a waterpark. This means that, if you're not a good swimmer, you mustn't go to areas where the water level is too deep or ride attractions that require extensive swimming. You should also consider wearing a life jacket and stick to a swimming buddy.
11. Learn How to Swim
Swimming is an essential survival skill you must learn, especially when you frequent waterparks. Learn the basics of swimming with your waterpark companions to ensure everyone's safety.
Safety First
While enjoyment is probably what people look forward to on a trip to the waterpark, safety should still be a top priority. Make sure that you and your companions follow these safety rules for a more enjoyable visit to a waterpark.