If you're looking for an English-speaking job in France, why not consider becoming an English immersion homestay teacher? It's an exciting, rewarding, and flexible career that will allow you to make money, look after your own kids, and give your students the tools they need to excel.
If you're interested in learning more, we've answered some of the most popular questions about teaching English in France below.
When do these homestays take place?
The English immersion holidays are generally planned during the school holidays, at a time agreeable to the student's family and yours, which can be between one and four weeks. There are also immersion weekends available during term time, which might be better for younger students who haven't been away from home before.
This means that if you work term-time, you can earn extra money during the school holidays and be at home to look after your own kids. It's also a great job for stay-at-home parents or self-employed people who have flexible work hours.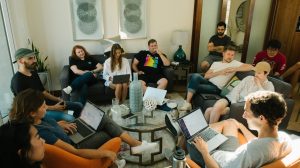 How many students would I have?
You can take between one and four children at a time.
What would happen during the homestays?
You would provide a lesson, tailored to the age and ability of the student(s), each morning of the homestay. The rest of the time would be dedicated to fun activities with the whole host family, where the student(s) would have the chance to practice their English language skills.
How would I plan a lesson?
If you're unsure about how to teach English, there are lesson guides online with set activities, and all you have to do is find out the ability of the student(s) before they arrive. Some companies will even help you plan the lessons after they've matched your family with a student.
What activities can I do with the students?
Often, you can do whatever you and your family like to do, whether that's watching movies, going for bike rides, laser tag, or baking cakes. The only requirement is that all of the activities take place in English because your student will learn faster if they're having fun.
If your family enjoy doing adventurous activities, like rock-climbing, kayaking, or horse riding, it's best to get permission from parents of the student(s), as you would if you were taking one of your child(ren)'s friends with you.
What if the children experience culture shock?
Culture shock, which can be experienced by anyone who suddenly finds themselves in a completely new place with different customs and a different language, is thankfully rare in children on English immersion holidays because they are only away from home for a short time and your house is unlikely to be that different to theirs. (It's not like you live in the middle of the desert.)
You should still be on the lookout for signs though, especially among younger children. These can include:
Hostile reactions to the host family and other English speakers
Sadness
Irritability
Homesickness
Inability to focus
Lack of interest
Dazed expression
Physical symptoms, i.e. nausea, headaches
Unusual sleeping and eating patterns
If you feel your student(s) might be experiencing culture shock, act fast because it will be easier to treat. Encourage them to open up about their feelings and talk (in English) about their home lives. Keep them busy and having fun, but make sure they contact their families if they want to.
What education do I need?
It depends on what company you choose to work with. All companies should be happy with a Teaching English as a Foreign Language (TEFL) qualification or its equivalent, but some companies, like Daily English, will accept teachers who have a university degree in any subject.
What else would I need?
You would need to have children living with you so that the homestay students can have kids their own age to interact with during the holidays. You would also need a spare bedroom for the homestay students to stay in. Generally, two students can stay in one room.
Hopefully, this has given you plenty of information about becoming a host family and teaching English in France. Now, it's time to do further research into this exciting career.