Word files and PDF files are the two most common file formats used by students and even professionals. You can create these file formats without requiring tech-savvy tools and skills. In Word Formats, you will just be needing a Microsoft Word installed on your device. On the other hand, you can access PDF files without requiring any installation. You only need to have a PDF file reader on your phone, computer, or laptop. 
Because of the convenience that these two file formats can offer, most people get confused about which among these they are going to use. The quick answer to that is you do not need to choose among these file formats because they have their pros and cons, and each of these is best used for a particular purpose. What you want to use between Word or PDF depends primarily on your reason for creating that file. If you want to know more about these file formats and to be familiarized with where each is best or appropriate to use, keep on reading because we will tell you the five things that you should keep in mind when choosing between Word or PDF files! 
1.PDF files for long-term use
If the purpose of the file is to serve as an archive of important paperwork, information, etc., we suggest that you use PDF to store it. As technology progresses, unwanted malware and viruses are also spreading. Thus, if you want to store a file for a long time, it is best if you choose a format that is more secure than the other. In this case, PDF is more secure than Word formats. You can always retrieve a corrupted PDF file using the tools that are available on the internet, such as the GogoPDF repair PDF tool! It is a convenient and efficient tool that you can use to retrieve the content of your corrupted PDF file effectively. On the other hand, you cannot easily find a tool that can retrieve the contents of your file if it is in Word Format. So if you are going to store your file for a long time, choose PDF as it can offer more assurance than the other! 
2. Use Word if your file is not yet polished 
There are times when we have to create a draft of our paperwork. These files are not yet polished and are expected to be subjected to many more editing sessions in the future. You may still want to proofread it or modify certain portions of your document. Hence, if you are uncertain whether your paper is already finished or polished, it is best to settle for a Word file. It is because you do not want to spend more time converting that certain file into PDF over and over again until you come up with your finished product! Unlike PDF, Word is editable. So the thing is if you still have to edit it, then save it as a Word file!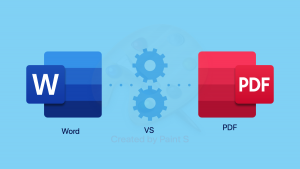 3. PDF best for file-sharing 
If the file that you are creating is meant to be shared on someone else using any mailing engines, we suggest that you convert your file to PDF. If you do not know, PDF is a layout-preserving format. Thus, when you share it online, you can make sure that your PDF file will be received by the receiver the same way you have layout it. On the other hand, Word formats can be easily messed up, especially if the receiver is using a different version of Microsoft Word installed in his or her device. While PDF, regardless of what PDF reader he or she has, will still read the file the same way you view it. In short, if you want it to view the same way as you create it, better use a PDF! 
4. Use Word File if you want to work with a group
Using Microsoft Teams, you can make a Word file that any member of your team can access. Thus, if you are given a group task with your classmate from college, you can use a Word file to work on it in real-time! You can also add or start a conversation on it that everyone can join. Everyone can view the comments. So if the file that you are making is for the group, then use a Word file and connect using Microsoft Teams! This is an easy way to work collaboratively in this online learning setup! 
5. Use PDF if you want to submit it to your professor or boss
Believe it or not, most professors or bosses prefer checking files in PDF format. They want it as it occupies smaller storage in their devices. They also want it because it appears more presentable and final. As we have earlier mentioned, PDF files are more preserved and secured. Thus, it is another plus factor for them. It is also a great opportunity to impress them if you want to by personalizing your PDF file–you may put active links, comments, and so much more! 
In a Nutshell 
You do not need to choose between Word and PDF as they both serve different purposes. Just pick the file format that suits the intent of your file! For instance, if it is meant to be stored, then go for PDF but if you need to edit it, then go for Word! Moreover, if you need to share it or submit it, use PDF, but if it is meant to be worked on as a team, then use Wore format. Easy as that! Always assess your purpose and know the best file format appropriate for it! Everything else will follow using the knowledge that you have gained too which file to choose in different situations and purposes. If you need to access a website where you can edit your files from one format to another, you can go check out GogoPDF today! It has more than 20 tools that you can use for free today, so you won't have to worry much about file formats.