Some of Australia's most popular sports include rugby, soccer, cricket, football, and horse racing.  Fans are avid buyers of sports memorabilia like jersey shirts, caps, shoes, gloves, pants, and memorial cards. Jersey shirts, in particular, are well-loved items since the jersey number identifies players.  Famous Australian cricketer Shane Warne, for example, tried to own the coveted number 23 for his jersey shirt.  The number 23 identifies widely-known celebrity athletes like Michael Jordan and David Beckham. Even in schools, student-athletes and their families are sentimental about their jersey shirts, making memorabilia framing the best option to preserve one's sports legacy.
Why do people frame jerseys? 
Jersey framing is a sought-after service by parents to display their children's athletic accomplishments.  They are popular conversation pieces in family reunions. Some enthusiasts of jersey memorabilia framing are celebrity collectors like Billy Crystal, Pele, and Penny Marshall.  They are avid sports fans who invested in sports memorabilia as a hobby.  Their collections were eventually donated or auctioned off at excellent prices.
One of the most expensive jerseys was the one worn by New York Yankees' Babe Ruth.
The jersey sold for a record-breaking $5.6 million last 2019.
How are jerseys framed?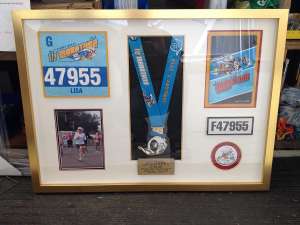 For those who prefer to frame the jersey themselves, the following items are necessary:
Flat box frame or shadow box frame
Measuring tape
Matboard
Foam backing board
Framing pins
Plexiglass
Needle and thread
First, the jersey needs to be measured to pick the right-sized frame.
The next step is to layout the jersey on the matte board or foam backing board.  The uniform should be folded and ironed in such a way that the player's name, number, and sleeve patch logs are showing.  Stainless steel framing pins are used to pin the jersey to the backing. Afterward, stitch the shirt to the mat board with a heavy-duty needle and thread.  Lastly, cover with the plexiglass and attach the sides of the frame.
For memorabilia framing, it is still best to consult the professionals. Here are some tips to consider when consulting a framing expert.
 Discuss how the jersey's folding and which portions should be visible. Find out what kind of iron they use.
Choose high-quality wood and acid-free archival quality materials. The frame should include UV-protective glass and plexiglass.
The jersey should be mounted to a backing so that there is no attachment of the material with pins, staples, or adhesive tapes. How is this done? By fitting the jersey around a foam core.  The foam, not the shirt itself, is attached to the frame backing.
How are jersey memorabilia protected?
Signatures can fade, or the fabric can deteriorate. Climate, light, and air circulation can affect autographed jerseys. The best way to protect the jersey from light is to use shadow boxes and frames with built-in UV protection. Good air circulation is also necessary.  Allow at least half an inch between the front of the case and the jersey itself.
Moreover, it is advisable to display jersey memorabilia in air-conditioned rooms instead of exposing them in a warm or humid environment.  Moisture can cause smearing and shrinkage.
Conclusion
It is possible to preserve jersey memorabilia for future generations.  Protecting one's investment includes entrusting memorabilia framing to the experts.
Author Bio
This is Kevin, a full-time professional blogger. He loves to travel and try new food, surfing and definitely a music addict. He also loves to write on trending ideas on various topics that prove helpful to others with their personal and business works.