The San Diego International Airport (SAN) is 3 miles (4.8 km) from downtown San Diego, California. The airport was previously known as Lindbergh Field, named after the American aviator, Charles Lindbergh. In 2018, San Diego Airport served more than 24 million passengers, which marks five consecutive years of record-breaking traffic. San Diego Airport is the busiest single runway in the United States and the third-busiest in the world, behind Mumbai and London Gatwick. If you are traveling to or from San Diego Airport you should plan plenty of time to make your way through this bustling airport.
Major Airlines
San Diego International Airport is served by 18 passenger airlines. Southwest Airlines controls the majority of flight traffic at San Diego Airport with over 30% of the entire market share. Other major airlines include Alaska Airlines, Delta Air Lines, United Airlines, and American Airlines.
International Flights
San Diego Airport is an international airport with several nonstop flights to Mexico, Canada, Germany, Switzerland, Japan, and the United Kingdom. In 2018, the most popular international routes from San Diego were San Jose del Cabo, London Heathrow, and Vancouver.
General Location and Driving Directions
San Diego Airport is northwest of downtown San Diego. It only takes 10-minutes to drive from the Gaslamp Quarter of San Diego to reach the airport. If you are coming by car, the airport is located directly off of I-5.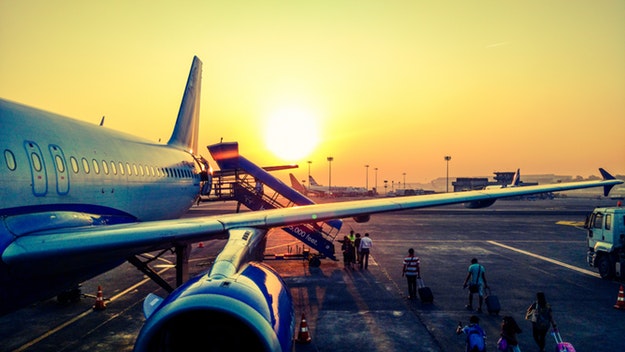 Terminals
The San Diego International Airport has two terminals (Terminal 1 and Terminal 2) and each has two concourses. Both terminals are used for domestic flights, but only Terminal 2 handles international flight arrivals. There are nice business lounges if you are looking for a spot with free wifi, power outlets, and snacks and drinks. The United Club is located in Terminal 1. In Terminal 2, there is the USO Facility, Airspace Lounge, and Delta Sky Club. Check their website for access details.
Parking
The San Diego Airport has three official parking options. You can opt for Curbside Valet for convenient direct access to the terminals for $40 per day. The San Diego parking garages are located within walking distance of the airport and cost $32.00 per day. The Airport Long Term Lot is an uncovered parking lot with a shuttle for $20.00
If you are looking for the cheapest San Diego Airport parking options, there are several low-cost options if you book with an off-site parking company. Their rates are around $15 per day for covered parking with a free airport transfer shuttle. Check the prices online for San Diego Airport parking and book in advance to get exclusive offers.
Transportation
Pick Up& Drop Off
Pick up and drop off at the San Diego Airport is possible at the arrivals and departures level, respectively. Be sure to know the terminal where you need to be picked up and/or dropped off. There is short term parking with meters located nearby.
Transportation between Terminals
SAN Airport has free shuttles that run between the Terminals and the Car Rental Center. The shuttles run around the clock. There is also a walkway that connects the two terminals and it takes about 7-10 minutes to walk.
Rental Cars
All car rentals at the San Diego Airport function from the Consolidated Rental Car Center. There are free shuttle buses that run continuously to bring travelers between the terminals and the rental center. There are 16 rental car agencies available at SAN Airport. Check the San Diego Airport website for more information.
If you need a taxi, head over to the Transportation Plazas where you will be placed with the first available taxi. If you are taking rideshare, the drivers will pick up curbside at both Terminal 1 and Terminal 2. There is signage around the airport to show where you should wait for your ride.