An excavator makes it significantly easier to dig terrain than attempting to do it manually. However, there are many different types and sizes of excavators on the market. That means you need to know what excavator is best suited for the work you intend to undertake.
Don't forget that it is usually best to do excavator hire as the cost of purchasing is very high and generally unnecessary unless you will be using it repeatedly for a long duration.
The Mini Excavator
These are generally good for up to 6 tons and, because they are the smallest of the excavators, they are the best when space is limited. They are perfect for a variety of domestic projects and often don't need a special license to operate.
Midi Excavator
The next size up can handle between 6 to 10 tons and, although good for most small spaces, they have more power. In general, this allows this type of excavator to reach further yet still gives great maneuverability.
Standard Excavators
These are more like the excavators you see on a conventional builder's site, you may find them referred to as crawlers. They are generally capable of lifting up to 24 tons and have significantly more power and reach.
Of course, the size of these means you need plenty of space and they are best suited to commercial construction projects.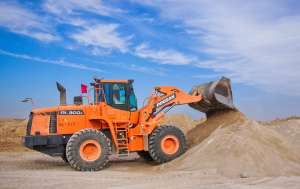 The large Excavator
The final option is a large excavator that can handle up to 45 tons, that's impressive. These are great tools but designed for the biggest sites. They also need to be moved on massive trucks which can make it an issue when getting them to the site.
Choosing The Right Excavator
The first step in choosing is simply looking at the space you have available and asking yourself which excavator will fit. In most cases, this will narrow your choice for you.
You can then look at what you will be moving. Specifically, you should consider if you are just digging or looking to move items. If it is the latter then you need to consider the weight of the items you wish to move. Again, this will help you to choose the right excavator, capable of lifting the loads you have.
Don't forget that alongside the lifting power the excavator needs to have a counterweight to keep it balanced, make sure your chosen excavator has this.
It is also important to consider your required dig depth. The larger the excavator the deeper it can dig. If you are in any doubt regarding the dig depth of each excavator talk to the hire firm, they can help you out!
Think About The Bucket
The bucket size is largely controlled by the size of the excavator. However, it is still worth checking what size your chosen excavator can handle and if you have the bucket available. It can make a significant difference to the time it takes to prepare the ground.
Read More: The 5 Most Common Construction Defects.