Over 88% of Indian households have mobile phones, and all of them need to recharge to keep the service going. In the last few years, the reach of mobile phones has increased phenomenally worldwide and in India. With only 76 million Indians using smartphones in 2013, it has increased ten times to 760 million now in 2021. Over 50% use smartphones, without which most of their activities will come to a standstill. Several mobile companies are providing a range of services in India. Recently, the British telecommunication giant Vodafone and Idea, part of the Aditya Birla Group have come together as VI to offer fantastic online recharge for the benefit of the customers.
VI – Growing At a Steady Pace
To reclaim the lost 100 million connections to Jio, VI in 2021 has announced many mobiles recharges with free Zee5 to Disney+ Hotstar VIP membership streaming, insurance, among others. Starting from meagre ₹19 for two days to a cost range of ₹2398 rupees annual plan, the rebranded VI has many benefits for Indians. And India's leading online recharge portal and its share also offer many benefits for fast and easy recharge. But with the competition soaring among India's call and data recharge space, check out the top 5 benefits of online Vodafone recharge.
Top 5 benefits of Online Mobile Recharge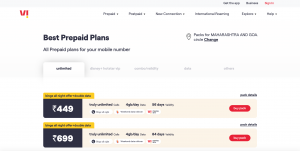 1. VI Hospicare
In these testing times, Vodafone Idea has come up with a novel insurance plan called VI Hospicare for its subscribers. It is to help them with their hospital expenses, including COVID-19 treatment in all major hospitals, both government and private. With just an Rs. 51 prepaid recharge add-on pack to the existing pack will provide insurance cover for the subscribers of Rs 1,000 daily hospitalization expenses and Rs 2,000 ICU expenses. All these benefits are also available for Rs. 301 Vodafone recharge standalone recharge pack. Subscribers can claim the amount from reputed Aditya Birla Insurance by producing a scanned copy of the discharge certificate.
2. Disney + Hotstar VIP membership
The annual Disney+ Hotstar VIP membership costs Rs. 399, but it is free with Vodafone recharge for select prepaid and postpaid subscribers. The VI prepaid customers have to recharge with the following plans to avail of this fantastic offer that includes Rs. 401, Rs. 501, Rs. 601 and Rs. 801 packs. This best offer, and the many other benefits of Vodafone recharge, is valid in all existing VI telecom service areas.
3. The cheapest Vodafone recharge plan
Even the cheapest Vodafone recharge plan of Rs. 19 offers an unlimited calling facility for two days. Though there is no free SMS, it provides a 200 MB data facility. It also offers its subscribers Vodafone Play and ZEE5 subscriptions.
4. Cheap & expensive annual Vodafone recharge
VI offers two annual subscriptions, one cheap and the other expensive. The cheap Vodafone recharge plan of Rs. 1499 offers 24 GB data, 3600 SMS valid for 365 days. There are also the additional benefits of ZEE5 and Vodafone Play. The costly annual plan for Rs. 2398 comes with all the above benefits and more with 1.5 GB daily data and 100 daily SMS usage.
5. Vodafone recharge data add-on packs
Apart from the 20 announced Vodafone recharge packs, VI has also announced many data add-on packs. It includes availing additional 1 GB data for 24 hours with Rs. 16, 3 GB for 28 days for Rs. 48, and 6 GB data for 28 days at Rs. 98.
It is best to avail of all the above benefits by online Vodafone recharges through a robust online recharge portal as it is fast and convenient. These portals also provide additional benefits for the subscribers as discounts and offer to subscribers. These platforms can also be used as a money transfer app to transfer money from one bank account to another and from one wallet to another through UPI. Hence, use reputed and reliable Vodafone recharge platforms to avail all the above benefits and more for enjoying unlimited data and calls.