Phones are prone to collecting all kinds of bacteria and debris as you use them.
Most people don't consider cleaning their phones nearly as often as they do their own hands. However, failure to have an iPhone cleaning routine can mean spreading germs and developing problems with your device.
Cleaning an iPhone isn't complicated as long as you know what to use and what not to use. There are even iPhone cleaning supplies that you can purchase from your local Apple store.
Here's how to get started cleaning your smartphone.
iPhone Cleaning Supplies
The most basic phone-cleaning items are disinfectant, wipes, cotton swabs, and toothpicks. You may also need a can of compressed air and a microfiber cloth.
The disinfectant should be 70% isopropyl alcohol. Any cleaning wipes you use should be bleach-free.
Cotton swaps and toothpicks are primarily used for cleaning out any crevices and ports on your device. Any wipes or cleaning cloths are for exterior use only. Don't pour any cleaning liquid into the device itself.
Cleaning an iPhone
Your iPhone cleaning routine involves wiping down the outside of the phone, clearing out any ports, and cleaning your phone case.
The iPhone disinfecting process starts with wiping down any dust or dirt from the front and back of your device. Make sure to remove any protection for iPhones first. You can then use a disinfecting wipe or isopropyl alcohol to give your screen a clean shine.
As for your ports, you'll use a combination of a cotton swab and a toothpick to get any gunk or dust out. Turn off your phone before you begin, and try not to stick the toothpick in too hard.
What to Avoid
When cleaning your iPhone, there are a few things you should stay away from.
First, don't use any harsh cleaning products or soap. Hand-sanitizing wipes may be fine on the outside of your device, but you do not want to soak it.
Second, avoid drying your phone with a hair dryer or something similar. The heat could easily damage the inside of your device.
Finally, don't use abrasive items like towels or tissues. These can scratch your screen. Instead, use a microfiber cloth and a can of compressed air may also be required.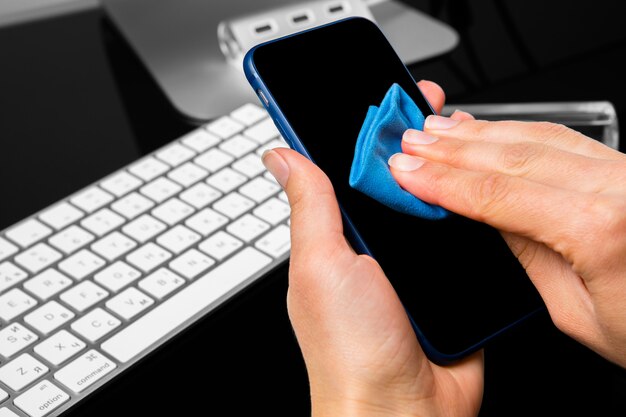 Give It to a Professional
Don't be afraid to take your phone to a professional if you're struggling to clean out your charging port or have another issue. You should avoid attempting to disassemble it and peek inside in particular.
Check out this page on gadget repair services instead.
Keep Your iPhone in Tip Top Shape
Washing your hands is simple to remember, yet few people bother to clean their iPhone screens. It only takes a minute, and the time spent is worthwhile.
For more information on technology, lifestyle, and related subjects, read our other articles.