That's the amount that restaurants in Saudi Arabia earned in 2018. Would you want to have a piece out of that pie?
Techno at the Resto
According to the National Restaurant Association's State of the Industry Report, restaurateurs will train their eyes more on the younger consumers moving forward. This will also mean that the restaurant trend will veer towards using technology as a means to amplify customer services and streamline restaurant operations.
Restaurant point of sale (POS) software is surely eating its way in. In fact, the global POS terminal market is expected to gobble up $24.7 billion by 2025 according to the latest market research report released in May 2019 by Grand View Research.
This growth is mainly due to the escalating demand for POS terminals, including tablet-based POS solutions from restaurant owners. For restaurant entrepreneurs, mobile POS terminals such as tablets will not only improve customer experience but will also provide faster and more convenient solutions to both frontend and backend restaurant operations.
Tablets are the preferred POS terminals these days. Better availability and lower cost of mobile devices also add to the allure of using mobile POS technology. It not only looks cool, especially to the eyes of your tech-savvy customers, but it also allows for better mobility and flexibility among your staff. Online capabilities also allow you to conduct your business anywhere at any time.
If you own a restaurant, it would work best for you to invest in these mobile devices that will surely help make your venture as healthy and robust as possible. Here are some of the most helpful tablet apps that can boost your business:
1. Waiter Digital Menu
An interactive food menu amps up the appetite of your customers with its modern vibe. It gives you the freedom to design your menu with colorful images that will further tantalize the taste buds of your patrons. You can even include related content that can either tell the story of your restaurant or incorporate glowing reviews from your satisfied clients.
A digital menu also aids you in making your contribution to protecting the environment. No need to print paper or spend on reprinting fees. It's also easy to update your menu and sync it across devices. Uploading it to the cloud will also allow you to sync it in real-time across your branches.
Your digital menu can also include ongoing promotions, special events, and announcements.
2. Cashier Point-of-Sale
Your interactive menu can also be connected to your restaurant's cashier POS. This will make it more convenient to track orders and manage real-time transactions. Even without the Internet, you can punch in the numbers and conduct business as usual. The data is saved and synced once the Internet connection is back.
Its graphical nature makes it user-friendly to your staff while its online and offline capabilities also make it easier for you to handle business wherever you are. When you dish out tills to every member of your staff, it's also easier for you to oversee daily performance and make the necessary modifications to pep up productivity. For added security, you can control access to specific people or groups.
You can even garnish the experience by adding a third-party app to your tablet POS. As long as it's an iOS app, you can grow your business by integrating apps for online ordering, loyalty programs, or delivery services.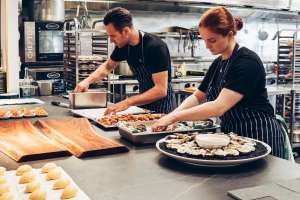 3. Kitchen Display System
From the digital menu, orders are automatically sent to the Kitchen Display System (KDS). This efficient app will help in ensuring that orders are accurate. It will also help minimize food waste since any changes made to the orders will immediately appear on the KDS.
This will also help you monitor preparation times and track which items on the menu are not selling so well. As a result, this insight can help you curate your menu to cater to what your clientele prefers.
4. Table Management
There's no need to panic as to where to seat guests if you have this table management app. You can efficiently manage the floor and assign your customers to the right tables. You will also have better control over queues and wait times for faster, more efficient service.
By having orders updated in real-time on the app, your staff can streamline service and process orders efficiently. Both front and back-of-house staff will be aligned where the customers are in the dining stage allowing for better management and operations.
5. Inventory Management
You no longer have to worry about missing stocks or running out of ingredients. With the inventory management app, you can monitor inventory, track use of each item on the list, and set notifications if your pantry is running low.
This can also be synced across all devices so you can see whether any of your branches are in need of additional stock. Even changes made by the customer such as additional toppings or sidings are also indicated in the tracker.
Tap Into Success
When you want to have your own slice of the success pie, it would be wise to put your eggs in the tech basket to streamline and improve your business. With the use of tablets and the most efficient apps such as the ones mentioned above, you can look forward to the sweet aroma of success.
AUTHOR BIO
Ahmad Alzaini is the co-founder and CEO of Foodics, a fast-growing foodtech startup. A businessman by nature, Alzaini is an app aficionado, developing businesses in Saudi Arabia within several industries.