Staying stylish is a must today. From your hats to your shoes, you feel the need to exude style everywhere. If you are tired of wearing constricted and painful high heels just for the chic factor, then there's a healthier, more comfortable, and incredibly stylish alternative for you. Many style icons and health experts recommend ballerinas. There are several incredibly unique and stylish flat-soled shoes to choose from with the new arrival in ballerinas in the footwear industry.
History of Ballerinas
Ballet is one of the most elegant dance forms in the world. The grace and fluidity of a ballerina as she swings, jumps, and struts across the dance floor are extremely mesmerizing. A ballerina needs extreme concentration and comfort to perform the complicated dance routine. It is said that a true ballerina needs to "feel" the slick, hard dance floor clearly to be able to flow over it gracefully. The flat-soled, soft shoes, aptly called ballerinas, are extremely comfortable and provide incredible grip and balance to the performer. 
Flat Heels for Happy Feet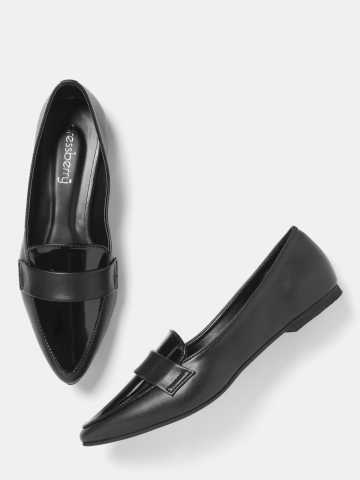 Not only are these dance shoes soft, but they are also extremely comfortable as well. When you wear restricting footwear, especially at work, you can feel the excruciating pain in your toes and calves at the end of the day. Standing for an extended period of time or walking for a considerable distance in such stylish formal footwear takes a toll on your foot-health and also on your body. There are serious problems reported by men and women all over the world relating to foot-wear issues. 
Benefits of Ballerinas
According to the Head of Department of Human Evolutionary Biology at Harvard University, Daniel Lieberman, wearing "minimal" shoes, such as ballerinas, instead of hard-soled heels and platform shoes can actually help you get stronger feet. The study pointed out several advantages of wearing flat-soled shoes over heeled shoes, such as:
Wearing flat-soled simple shoes that mimic the natural grip of your feet on the ground makes your feet stiff and strong. 
Wearing soft, flat shoes instead of arch-hugging, heeled shoes make your feet strong enough to prevent most foot-prone problems. Chronic lower-back pain, damaged knee cartilage, and agonizing knee pain from prolonged use of heeled shoes can be easily prevented by switching to more comfortable flat, thin-soled shoes. 
Flat-soled, soft ballerinas are available in every foot size and come in a huge variety of colors and designs. From somber, formal colors to bright, glittery, bejeweled ones, there are a plethora of options to choose from. 
It is clear that wearing aesthetically pleasing, flat-soled footwear, especially to work, sounds and feels incredibly great. 
Conclusion:
Thus, taking into account the impressive health benefits and the stylish variety to choose from, it is safe to say that switching to ballerinas from hard, heeled shoes is an excellent choice.