A good snippet manager is a rarity these days; many applications have different functionality and design, but cannot concentrate all the necessary functions. This is a major problem for programmers, engineers, and computer science students. Nevertheless, there is a good application that really deserves attention. SnipperApp 2 and Forge are exactly such software products. Let's consider both options and pick the best code snippet manager. Also, we will check all advantages and disadvantages of each option.
Forge – Pros & Cons
Forge is a modern snapshot manager that has a simple interface and a nice dark dot theme. Here you can store your snippets and quickly bookmark different titles for quick searches. It is worth noting that this is a fairly simple code editor that is available on Mac, Linux Windows. You can count on a simple interface that allows you to find and manage snippets of code quickly.
Also, you can share files with your friends and colleagues. This application's main goal is to provide users with the most versatile interface that will allow you to store various notes or code snippets quickly. Unfortunately, this snippet manager cannot boast of wide functionality or any additional options. The biggest disadvantage is the absence of GitHub Gists synchronization.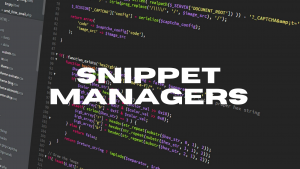 SnipperApp 2 – Pros & Cons
SnipperApp 2 is an advanced and feature-rich application for storing snippets, notes, and any other information in one place. There are several key features here in addition to a user-friendly interface and the ability to synchronize documents.
Stylish themes
Font customization
GitHub Markdown
Tab customization
Syntax highlighting
You can also use hotkeys and cloud sync with iCloud or GitHub gist. The app allows you to add pictures to snippets and use menubar to search for information. It is worth noting that the backup system is very relevant for those who can accidentally delete something from their work computer. This app is well optimized for many devices so you won't have any performance problems.
It is worth noting that the application is currently only available to users of the apple.com ecosystem. However, this is not such a big loss since the application is really multifunctional and worth trying.
Now you have enough information to find the most suitable snippet manager for you. We have reviewed the main advantages and disadvantages for you to make an informed choice. With all the key features on hand, this will not be a problem for you.