Trampolines are fun devices that are made with fabrics called a bounce mat that are stretched taut and attached to steel or metal frames with the aid of several coiled springs. Some use glass-reinforced plastic rods instead of springs.
Trampolines provide a lot of fun for both children and adults alike and it is used for recreation and also as sporting equipment. It helps keep children occupied, happy and it is good for exercising and keeping fit. They also come in various shapes and sizes so any age group can find one that's the right size for them.
For people looking for some fun and excitement or involved in sports like tumbling and acrobatic, they are good devices to have. If you are interested, you can read more about them here.
Generally, trampolines are safe devices but there is still a possibility of getting injured. In fact, there are about 100,000 injuries caused by it every year in the United States and a lot of these happen with children under 16 years of age. A lot of injuries when using trampolines can be prevented if you use one that is safely built. This article aims to review the best and safest ones to ensure that cases such as accidents are reduced.
What are the Safest Trampolines in 2020?
Skywalker Trampoline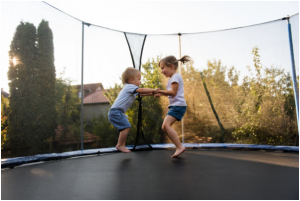 This is the most popular brand of trampolines and one of the safest. Skywalker makes both round and square devices. They are sturdy, affordable and they offer a good bounce and quality. They use excellent materials that are able to stand the weather for several years without damage. The nets on the Skywalker are sewn into the jumping pad directly while the springs are outside of it. This makes it safe as no jumper's leg can get stuck or caught in the springs. One of the best features of the Skywalker is the frame padding. It is thick and soft and thus prevents anyone from getting injured while they are climbing or getting off. Skywalker also comes with a variety of accessories and it is a great choice for people who want a good and safe device with great value as well as at an affordable price. The only drawback to this device is that it might be difficult to set it up.
Springfree Trampoline
Springfree is a trampoline that is of high-quality and big on safety. They are designed to eliminate what makes trampolines dangerous. They are designed not to have any springs or metal around the jumping area. The net is attached to the mat which is coated with UV and tear-resistant and this prevents children from falling off. They come with good pole curvature with three layers of protection from rust. Aside from its great bounce, this device comes offers a basketball hoop and a ladder, adding to the fun. Note that these may be sold separately. They come in a variety of sizes and shapes; round, oval, and rectangular and they come with a 10-year warranty.
If you are looking for a device that you can leave your kids on and go on ahead to attend to other activities without getting worried, this one is for you. The only issue is that it is not a cheap one to buy.
SkyBoundStratos Trampoline
This is one of the best trampolines brands available. SkyBound has an array of bouncers on the market but the Stratos is the best of the brand. It is designed with quality and safety in mind. It is also bouncy and durable. The frames of Stratos are made of heavy-duty metal that is coated to prevent rust. This makes them sturdy, reliable, and durable. Since they can withstand most weather elements, there is no need to pull in down during harsh weather.
The SkyboundStratos comes fitted with 6 w-shaped pairs of feet and also an enclosure system with heavily padded support frames. It also has a UV-treated concave netting that also comes with a zipper. The net is attached to the jumping mat directly and this prevents any risk of landing on the springs which can cause accidents. The Stratos comes with an 84 yellow zinc-plated spring system that helps make it pretty bouncy.
The above is not an exhaustive list of trampolines. You can find other good options here:https://toptrampoline.net/.
Maintaining Your Trampoline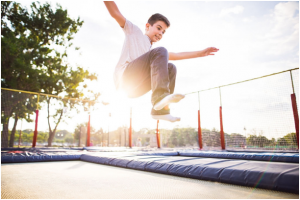 No matter how safe you think your trampoline is, it is still important to take care of and maintain it regularly. This is part of what makes it safe for use. To preserve it from rust, you might need to pull it down and pack it up especially during the winter months if you have the luxury of space to keep it.
Ensure to keep it free from debris and also brush off any leaves or needles before the kids start jumping on it. You should also wash off any tree sap or sticky debris that might have fallen on it. Occasionally check the safety nets, pads, and springs to be sure they are still in good shape.
Conclusion
Trampolines are meant for fun and thus should be as safe as possible since it is a device that is mostly used by children. Before purchasing, research about the brand and also about the features and safety precautions offered by the product. After making your purchase, be sure to clean and properly maintain it so it can keep being safe for you and yours for many years to come.