Maintaining the cleanliness of surroundings and commercial spaces is of prime importance everywhere. This approach is crucial in ensuring smooth operations in any industrial or commercial setting. Cleanliness in a factory space also has health implications as it protects the health conditions of employees and workers. Ensuring hygiene can reduce problems involved in the workplace more often than not.
Nowadays, leading companies and industrial spaces have opted for advanced push sweeper machines for cleaning purposes of their vast spaces. The demand for better cleaning equipment is rising with each passing day. The online market now provides you with a wide range of choices that fit in following your needs. Choosing among these wide varieties of push sweepers is a task in itself. Most machines have in-built facilities that may not be required for your sweeping commercial purposes.
Before buying any push sweeper machine online for cleaning your commercial/ industrial space, research the cleaning equipment and then make a choice.
Here are some tips to guide you through buying the perfect push sweeper machine for your space.
1. Measure the sweeping area:
The capacity of push sweepers depends on their sizes. Not all sweepers are suitable for large areas. For instance, the manual push sweeper by ASC has a capacity of cleaning 2100 sq. meters per hour! Such sweepers are ideal for cleaning large sporting grounds too. Large push sweepers can cover and clean large floors as it has a considerable capacity to load dust. Hence, before purchasing a push cleaner, consider the area that needs to be covered along with pathways and ancillary areas that need to be cleaned routinely. Push sweepers are available for commercial use with complex functions readymade for industrial cleaning.
2. Consider the type of floor:
It is essential to keep in mind the kind of floor for which you are purchasing the push sweeper. Not all push sweepers can clean indoor and outdoor spaces effectively. Each machine is carefully designed and categorized to clean a specific type of floor. A manual vacuum sweeper, for instance, can cover all kinds of surfaces – stone, wood, marble, tiles, ceramic, cement, etc. However, some push sweepers might find cleaning on a stone or cement floor difficult based on its features. Choose push sweepers specially designed to clean rugged surfaces if that is the case.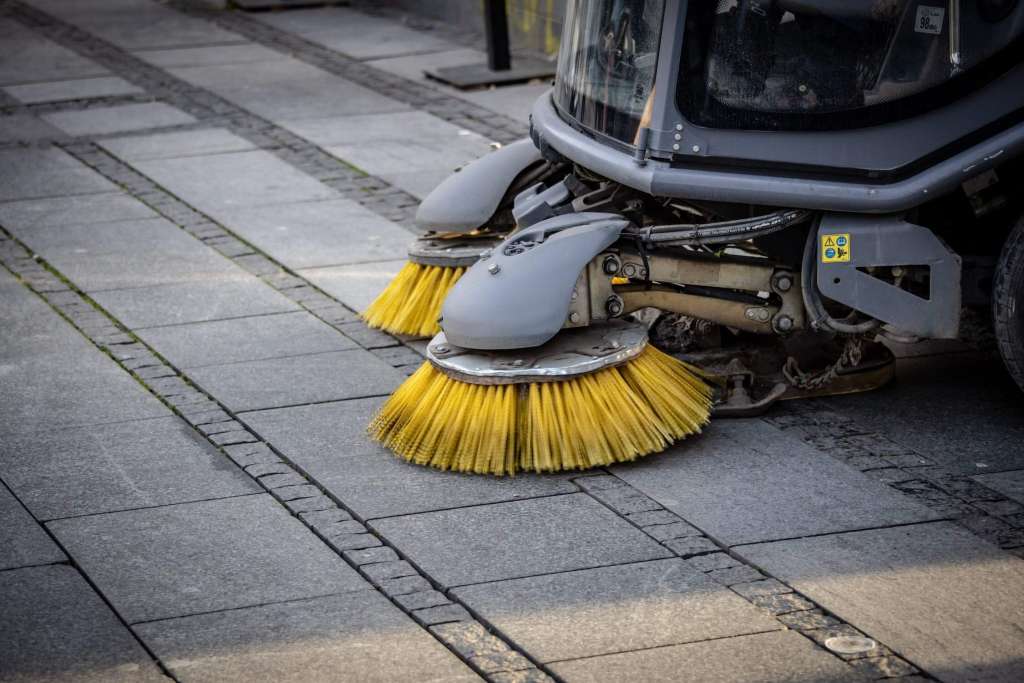 3. Kind of dirt:
Along with the type of floor, the type of dirt and debris also affects your choice of push sweepers. For minor dirt, a simple push sweeper is enough. This is ideal in cases of industrial spaces that are smooth and do not have any rugged space. For industrial facets, the dust and grime are much more significant. For such cases, purchasing a push sweeper online with complex features and substantial load-carrying capacity is preferable.
4. Power Capacity:
Push sweepers are also available with different power capacities. The devices that run on electricity have a plug with them but they are not ideal for cleaning commercial spaces. The manual push sweeper from ASC has a power capacity to sweep almost 3 kilometers! Some sweepers use gasoline or diesel for industrial cleaning.
5. Determine the environment:
Similar to other vital points, it is imperative to consider the surface and environment of your industrial space before purchasing a push sweeper. Every environment demands a particular type of push sweeper uniquely designed to suit the surroundings. For instance, if you want to buy a push sweeper for industrial purposes, warehouses and factories, the machine should have a larger load capacity and high battery life. There is a wide range of floor cleaners available in the market, designed to suit the necessities of its consumers.
Conclusion
The advancement of technology has made cleaning industrial space much more manageable than before. The highly automated cleaning machines, including push sweeper machines, have simplified the act of sweeping large areas easier and more efficiently. But one should find the right push sweeper machine before making the purchase since there are many in the market with different specifications. An efficient push sweeper can make your work much easier only if you choose one that fits your needs perfectly.