If your hobby or interest has ever been animal sighting or wanting to witness endangered animals before they get extinct so that you can tell your next generation about them, it goes without saying that you must have visited many national parks of India.
If you stumbled over this blog, it means you are certainly searching for some beautiful and enchanting national parks to visit. Well, you my friend, have come to the right place. In this blog, you shall read about one of India's most underrated and less-known national parks, the Pin Valley National Park. It is located in the Spiti Valley of Spiti district in Himachal Pradesh, covering a core zone of 675 sq. km and a buffer zone of 1150 sq. km.
A little about the park
This park is the only cold desert national park of Himachal Pradesh and gets its name from the Pin river flowing around the valley. This park is famous for protecting the endangered snow leopard, with an estimated population of twelve. Other animal species found there are Ibex, Bharal, Red Fox, Marten, Weasel, Pika, Snow Cock, Bearded Vulture, Chukar, Golden Eagle, Griffon, Himalayan Chough, Raven, etc. The best time to visit this park is during the summer months or early winter months.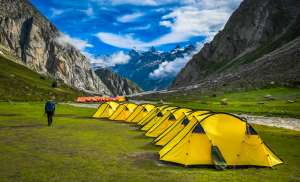 How to get there?
First and foremost, you need to find a hotel near or in Spiti valley so that you don't waste too much time going there. Take a quick airport taxi from Kullu to Spiti, reach your hotel, and have a good rest, because visiting and enjoying a national park takes a LOT of energy!
The next day, when you will feel fully energized and excited to visit the national park, you must go through some precautionary information beforehand, like knowing your limits in the park, having your own food and water in case it is not provided, and be fully thorough with the national park's rules and regulations. Also, you need a special permit to enter the grounds of this national park, which can be arranged from the Kaza Tourist Office; ask your guide or hotel manager to arrange them for you.
After all these preparations and measures, you are good to go! Find a carpooling vehicle outside your hotel to take you to the Spiti valley or book a cab from an online cab booking app in Spiti if you don't want to waste your time waiting for other families to come, and off you go to the Spiti valley!
Spiti valley is itself a sight to behold. The beautiful mountains, the forest-covered roads, and the cold breeze will certainly make you forget all your stress and worries about your job and home. You wouldn't even know when the distance between your hotel and Spiti valley ended while watching the rare flora of the valley.
The end of this car journey will take you to the most-awaited beauty of nature, the Pin Valley National Park. Not only does Pin Valley National Park ensure the safety of endangered animals, but also it is the preserver of many rare and endangered flora. There are around 17 villages near this valley with a population of 1500 – 1600 people.
There is no doubt that the visit to Pin Valley National Park will be an unforgettable and mesmerizing one, a journey for which you can say that if possible, I would rather stay there instead of coming back to the hustled city life.