We all go to the Church for praying to the Almighty, but, what if we sit on church pew Cushions with distressed upholstery? We may feel a little restless when sitting for a long time to convey all our prayers. So, for the interiors of the Church considering comfy Church pew cushions is the best possible option. The cushions are comfortable with seating and there is no permanent pew upholstering needed. The cushions are also available for curved and straight Church pews.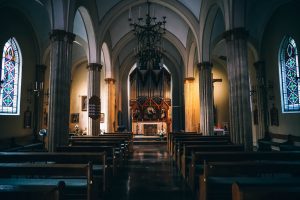 The best part about Church pew cushions is that they are reversible. If you compare it with normal cushions, then pew cushions are better in seating and cost. There are so many styles available in Church pew cushions, so you can choose according to your need.
Choosing the right cushion:
The fabric
The right fabric plays the most important role in the selection of the right pew cushion. The fabric should be durable and the color should match with the interiors of the Church. There are many fabrics to choose from, but the most common fabric is velvet. Velvet is also a customized choice for pew cushions and therefore it is so popular.
Look for edge and comfort
Another important factor to consider is the edge of the pew cushion. Most traditional cushions have rounded edges. But, there are many new edge styles available in pew cushions. You can choose from the single welted cushion, double welted cushion and box edge cushion. Actually, this also depends on the interiors of the Church.
Thickness or comfort is also very important. It's always advisable to consider foam thickness that is not more than 4 inch. But, this again depends on the furniture type or seating arrangement.
Types of cushions:
Modular style cushions
Modular style cushions are ideal for a 3/8 inch plywood base. The cushions are available in a two-inch foam that is comfortable. The cushion comes with a welted fabric case and pressure stapled. There is no need to worry about the packing. These cushions are available without buttons and with non reversible style pad.
Reversible cushions
These cushions are available in straight and curved forms. There are also customized options available in these cushions. The cushions are completely buttoned with rounded corners.
The cushion is available in different sizes as well. The cushion comes with full-length zipper option so it is easier to use it. Its available in welting option for complete comfort. The cushion also has a unique waterfall design front edge that makes it look different from other seating options.
Rounded edge cushions
For traditional option, rounded edge cushion is still the best choice. These cushions normally have pews with a round entry. The focus of these cushions is on the edge and corner. These cushions can also be customized according to the bench or furniture of the Church.
Communion Rail Cushions
These cushions are used in the rail like seating. Kneeling foam is generally used in these types of cushions. The cushions are generally available in tufting pattern but it can also be customized. These cushions are mostly made from velvet fabric. You have an option of choosing from different foam sizes for the best seat available.
Always select Church pew cushions according to need and comfort.