There is nothing that can compare to the feeling of being present in a stadium and cheering on for your home team. The adrenaline rush you get every time your team wins a penalty kick is unmatched. The frustration you feel when your star player gets subbed is unexplainable. The aura, the noise and the glory you feel as you walk out of the stadium after winning an aggressive match is all too surreal to forget.
FFA( Football Federation Australia)  is the governing body for soccer in Australia. As such, it's accountable for the governance of the sport, ensuring the very best standards of conduct and overseeing the sport's growth and development. The FFA is committed to 'providing the leadership to foster a unifying new football culture in Australia that embraces success, diversity, expertise, integrity and also the universal the attractiveness of the sport. If you're a soccer fan, chances are you can easily relate to the situations explained above. This is why attending professional matches of Australian soccer teams is probably your favourite thing to do. With that said, there are many other unique ways you can celebrate your passion for soccer. Here, we discuss some of them.
Organize Charity Matches
If your love for soccer sees no bounds, you can use this passion for a good cause. Many professional soccer players look for such opportunities to give back to the community and build their public image at the same time. They would love a chance to be part of such matches to do good for society.
This is why you should think about organizing a charity match. You can organize an event which involves something you are passionate about and raises money for a good cause. It's a win-win situation for all.
Join Sports Club
A competitive setting is a great way for new talent to prosper. It pushes individuals to perform better in high-pressure situations and brings out teamwork within a team. On top of that, sports clubs additionally facilitate things like social skills, self-esteem, and skill-building that are things which will be learned at any age that will be used for a lifespan. Now, when it involves finding specific sports clubs it may be quite overwhelming. You would like to begin by deciding what you're curious about.
Also, you can organize interschool soccer tournaments to promote this sport within the youth of your community. It will give the young players a platform to showcase their talent to local scouts and you will also enjoy pursuing your passion.
Volunteer to Coach a School Soccer Team
There is nothing more satisfying than watching children grow and learn. If you are blessed with good soccer skills and knowledge, then you can do something for your local community. You should put these skills to use by volunteering to train kids at a local school.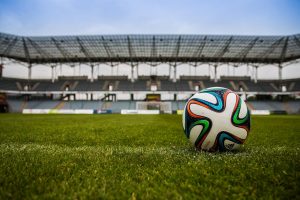 Volunteering to coach school children will not only help the local kids in your area but it will also give you a chance to spend your time doing something you love. With proper guidance and regular training, it won't be long before these kids start bringing in trophies. Imagine the pride you would feel when you and your students accomplish this.
Play in a Parents vs. Kids Soccer Match
We understand that it can be difficult to take out time regularly from your busy hectic routine. This is why we have an idea that requires less commitment. If you feel like you don't have the time to invest in a regular soccer activity, we have the perfect solution for you. You can simply sign up for a one-time activity instead. One-Time parents vs. kids match can be a great way for you to connect with your community.
 It will be a fun activity that you and your kid take part in over the weekend. You will also get to meet new people and hopefully begin some new friendships.
Last Few Words
There is no reason to give up things you are passionate about. As you can see, there are plenty of ideas that will let you celebrate your passion for soccer. With a little time and dedication, you can take part in or organize such activities to live a fulfilling life full of excitement.