If you love cricket and follow the sport, it's important to know all about the sports gear used in the game. Whether you're a player or an enthusiastic amateur, certain essential items should be in every cricket kit bag. This guide will help you know about those essentials so that you don't miss anything for your next game.
The Bat
This is the most essential equipment for a batter, as it's their job to score runs so that the bowlers can defend those. Invest in an excellent bat to get more from the game.
The Striker, The Dynamic & The Elegant are ideal bats for beginners who want to play both batting and bowling positions. In contrast, The Hitter Pro Edition bats are popular among experienced players. Choose your bat depending on the game you are playing. It is always advisable to go for a customized bat that can be made according to your playing style and preferences.
The bat can either be made from English Willow or Kashmir Willow. English Willow is soft in nature and has a good stroke. Generally, professional players use English Willow bats as they are more expensive. Beginners can choose Kashmir willow bats as they are cheap and require less maintenance. Always buy from a professional bat company to ensure that you are spending your money buying a high-quality bat!
A cricket bat will last years if you maintain its condition with routine maintenance; follow the manufacturer's guidelines to keep it in prime condition.
Helmet
The cricket helmet is made of a solid material that's lightweight and comfortable to wear. It should protect your skull and fit snugly, so it doesn't move or slip during your game.
Having a light helmet is ideal for players during long sessions on the ground. Helmet designs vary, so choose one that fits throughout your entire head and face to ensure maximum protection.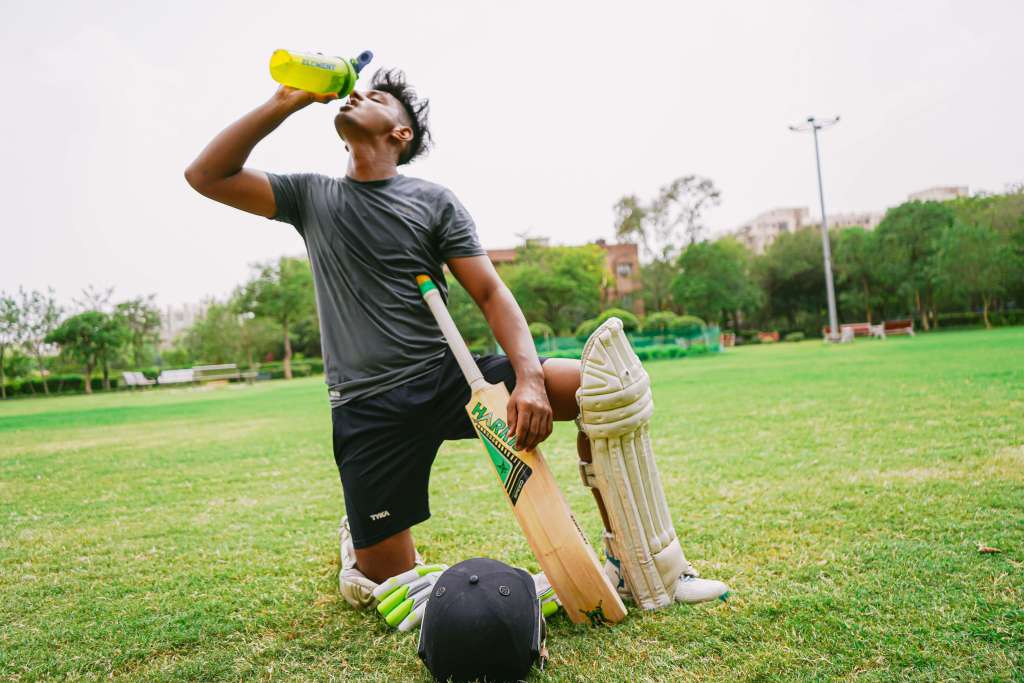 Protective gear
Safety is always a top priority in cricket, so the right protective gear is essential. Proper protection will keep you safe from injuries; remember to get a quality leg guard to protect your knees and shins while batting or wicketkeeping. The pad is made of foam and covers half of your leg, while some players wear a chest pad under their shirt. You may find them in different designs, types, and color choices, so choose a comfortable pad. It should fit well around your leg without being too tight; padding should not extend over the knee or ankle.
A good quality batting glove is also important to keep your hand safe from injuries. The gloves should be comfortable enough and also provide maximum protection.
Apart from these thigh pads are also important to keep your thigh area protected during the game.
Kit bag
A cricket kit bag is required to carry all your cricket equipment together. A good quality kit bag ensures that the equipment stays protected from external environments which in turn increases its lifespan.
Cricket Shoes
These are essential pieces of gear for every cricketer. Choose a light and comfortable pair with a sticky outer sole for better traction and control. Cricket shoes are available in many different designs, so choose the one that appeals to you most.
Practice makes perfect, and practicing with your batting at home is necessary to get used to the new equipment before you step onto the field. Investing in top-quality products that will last years and help you perform better is always the best decision.
The Bottom Line!
Well, this is about cricket kit essentials that all aspiring players must know about. We hope this Cricket Kit Guide will help you choose the necessary cricket equipment for your game.