Do you want a device which can replace the needs of a computer for you within a price range affordable for you and you can easily carry it own any places you want with amazing features and performances to fulfil all your needs? It has all the apps and can run all the software which you expect from a computer with amazing performance. It is a pocket computer with a large storage capacity and design for easy handle, making you get rid of the multiple requirements of space, power and extra hardware likes mouse and keyboards because it has touched and runs feature.
Should I buy a computer or media pad?
Many people find themselves confused in choosing between a computer and a media pad but Having all the advantage in consideration of a media pad and a computer it is easy to choose the best options which suit you better and it is clear and I would always prefer media pad as it fulfils all the requirements of a computer in much easy way concerning price and affordability. Huawei media pad m5 price is affordable and is within the range of all professionals, teachers, and students, with multipurpose features fitting the suitability of all.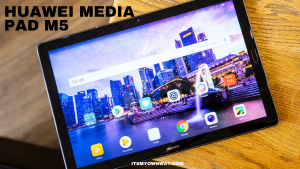 Features of Huawei Media Pad M5 
It not just perfect but an amazing tablet with great hardware and software features. It looks classical as it follows the new trend and suits the fashion design. It has been well assembled, with fast-charging and a long battery of 7500 mAH battery, a 1080P wonderful display, quad stereo speakers, and eye comfort mode. It has a storage capacity of 32 GB with extendable storage having a slot for an external memory card you can solve the problem of getting out of space. It has been made to fulfil your imagination and dream of having efficient and inspiring performance and look. It satisfies you with entertainment and gaming needs.
Advantages of Media pad over computers
From the day of its invention, it has taken the world by storm and replaced personal computers at largest has multiple advantages over computers with high performance and easy handling features, economical to purchase and easy to carry. It has amazing processing and performance compare to computers with no need for complex cables and connection as it supports wireless connection and has a battery to run in case of power down.it has a dynamic feature compare to the static place for computers, you can travel anywhere and can keep it safe from any physical distractions.