A canopy tent is a portable option when it comes to sheltering people, to cover foodstuffs, automobile, or any other valuable things that can be affected by harsh weather. These tents are available in huge variety and sizes to fit in each situation. 
They are easy to carry, and because they are foldable and portable, you can carry them from one place to another at ease. They are usually used in sports events, booths, beach parties, Wedding Dresses and much more.
When it comes to setting up your canopy tent, anyone can make mistakes. Well, sometimes it can happen accidentally while sometimes people's hard-earned money drains down. So, take a look at some mistakes that you can avoid to stand a perfect canopy tent:
Taking It Out In a Wrong Manner!
It is basically stored in a bag to encourage easy transport and to prevent damages. If you do not take out the parts properly, you can damage them. So, you should start by pulling out everything and placing it on the side to ensure you have all the parts. 
Place the roof fabric of the canopy tent and open it flat to make sure that all wrinkles settle down. The benefit of doing this is you will be assured; you have everything prior to setting up the tent. Also, you won't miss any component in the middle of fixing it up.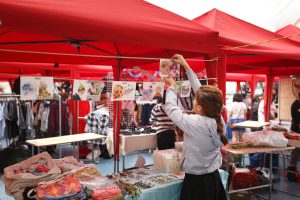 Assuming It Doesn't Require Cleaning!
Sometimes people may have their own theories and think it is the truth. And, they spread their opinions to others too. Most canopy tents' rooftop is made from polyester, and it can get damaged if you do not clean it regularly. You should be aware that moisture and dampness can ruin it. 
Not Understanding the Water-Resistant Factor Properly!
If you are buying a canopy tent for the first time, it is important to understand the difference between waterproof and water-resistant. However, the reality is not all canopy variants are actually waterproof. 
Many of them may resist water, but not repeal it. In fact, water storage can damage the material, and also destroy the trusses and frame.
Lighting a Fire under a Canopy Tent!
There are multiple ways to damage it and building a fire within the enclosure is one of them. 
Unless you want to damage the tent completely, it's not worth taking a risk. Moreover, your safety is crucial, besides any other factors. 
Not Ready With the First-Aid Kit!
Accidents can happen any time; thinking that you will not indulge in one of them can be a mistake. They are well-known to hurt your fingers and hands. You should be aware that it can happen, so take the first-aid kit with you.
Panicking In Bad Weather!
Generally speaking, it does not tend to blow away, but if the weather is too windy, it may not resist and blows away. By that, it means you are not prepared in the initial seconds when the wind starts to pass around. What you can do in such circumstances is using weights at the legs to keep the tent in place.
Using it for a Longer Time!
It is designed based on temporary usage. So, don't mislead yourself with the fact that you can live under it for an extended period. Simply take it down, if no one will be under that canopy.
Conclusion
Arranging a canopy tent is never a tough task unless it's breezy. If you don't make mistakes, you will take your canopy tent home happily!