Skrill is often labeled at the best e-money service, and for a good reason. It is one of the first payment systems that introduced a Mastercard which users can apply for, in order to pay for pretty much anything they wish to buy offline.
But what about online payments? The information found through a quick Google search is mostly tied to gambling websites and shady "get rich quick" pages. Most of us haven't seen a sizable business accept this payment method.
However, is pretty much the opposite. With its millions of users, Skrill has become a viable payment option for many stores on the web. This is true for products, services, but also different types of investments and gambling.
Check the Skrill shopping directory
Unfortunately, Skrill does not have a specific shopping directory. There are, however, several big companies that accept Skrill for their products and services. These include but are not limited to:
Forex –

Popular investment platform

DHGate

– Aliexpress competitor, wholesale products

eGifter

– Biggest gift card database

GoDaddy

– Domain name provider

Shutterstock

– Stock photo database

Skype

– Phone calls and chat messages

Wix

– WordPress competitor, website builder

Yancor

– Men's clothing

Lindex

– Women's clothing
The stores above are just an example of sizeable companies that trust Skrill. There are many more options that you will need to explore for yourself. This is thanks to widgets that allow users to accept Skrill for their eCommerce store. 
Currently available for Wix and WordPress, these payment gateways are expected to increase the number of stores that Skrill users can spend their funds on.
Make online purchases from eBay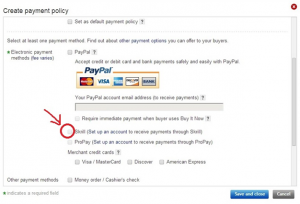 Here's a less known fact. eBay allows its sellers to accept Skrill. There is a simple checkbox user who need to tick to start accepting the payment service for their listings.
However, if you are a buyer, you may have some trouble finding products that can be paid for with Skrill. This is because only a very small portion of the website's sellers chooses to accept this payment method.
To this day, the common practice (which is certainly not the most convenient) when buying with Skrill, is to do the following:
Go to eBay and log into your account.

Once logged in, search for the keyword "SKRILL" and then click on "include the description".

This search should give you a list of more than 130,000 items. 

The first items in the search results are items with the same brand name. Skip those by scrolling further to start seeing more diverse results.

For more specific results, you can further filter your results by selecting specific categories (e.g. Men's clothing).

The relevant results should include the Skrill payment option in their description. As such, you should be able to make a payment using your Skrill account.
The process may seem a little confusing at first but should get a lot easier after a few searches.
Buy Bitcoin or other cryptocurrencies
Skrill is not only a great way to store your money, but also an entry point to other investment opportunities. 
If you're currently using Skrill, you might have noticed that the service allows its users to invest in Bitcoin, Ethereum, and other cryptocurrencies, directly through their website.
And while this may be a good idea, especially if you are used to the dashboard of Skrill, the fees can be as high as 10%, especially for amounts smaller than $100.
As such, if you are looking for ways to exchange Skrill to Bitcoin, you might as well search for exchange platforms where the particular trading pair has lower commissions involved.
Send it to others
This may not feel like "spending" your Skrill funds unless of course you are tipping content creators or paying them to get access to premium content.
In most cases, even those mentioned above, you will simply need to create a money transfer from one Skrill account to another. This process is very easy to follow and you can find more information on how to do this here.
It might be worth mentioning that these types of transfers are completely free of charge, as you are simply sending your funds from one Skrill account to another.
Summing up
Skrill can be used as a payment method for different types of online purchases. In this article, we explained how you can do the following:
Spend Skrill on stores that accept Bitcoin

Select Skrill as a payment option for eBay purchases

Pay with Skrill to receive cryptocurrencies

Transfer Skrill funds directly to other users.
We hope you enjoyed this article. As always, let us know what you think and if you wish to see any additional information that could further improve the value of the content.
Buy Skrill with Bank Account Instantaneously | Paybis