Ceramic coating refers to a clear coat that is applied to your car's paint. It is a liquid polymer that binds to the car's surface. The chemical bond created between the car paint and the clear coat is so strong that it lasts years and can only be removed by abrasion. The application's longevity makes it a popular choice for those who want to keep their car safe from any scratches. It's also considered more successful than wax and sealants.
Benefits Of Ceramic Coating
Protection from Stains and Scratches
The ceramic coating offers protection from stains and scratches. The chemically resistant surface created by the nano-coating protects against contaminants like bird poo, bug splatter, tar, tree sap, etc.
Protects from UV Damage or Oxidisation
Damage from oxidiation or harmful UV rays is common if your car is mostly parked out in the sun. Sun exposure makes your car's paint look dull and faded after some time. The ceramic coating will act as a barrier to the sun's ultraviolet rays preventing the oxidation process.
Enhanced Shine and Gloss
The best thing about ceramic coating is that it will not damage your car's original paint. It will just act as a strong protection layer over it. This coating will enhance the reflective properties of your car's paint so that you see a shinier and glossy surface. It will instantly change the appearance of your car. Wax does offer a shine to the body, but it eventually wears off with time and needs to be reapplied, unlike ceramic coating that needs no reapplication.
Easier to clean
Once you have a ceramic coating over your car, it becomes easier to clean it. Due to the hydrophobic properties of the polymer, it repels water. It allows the water to slide off from the car's surface, meaning your car will remain clean of mud, dirt, or grime as it will not let any dirt stick on it. Also, if some of it remains, you will be able to clean it very easily. With a simple wipe of a cloth, you can regain your car's radiant surface.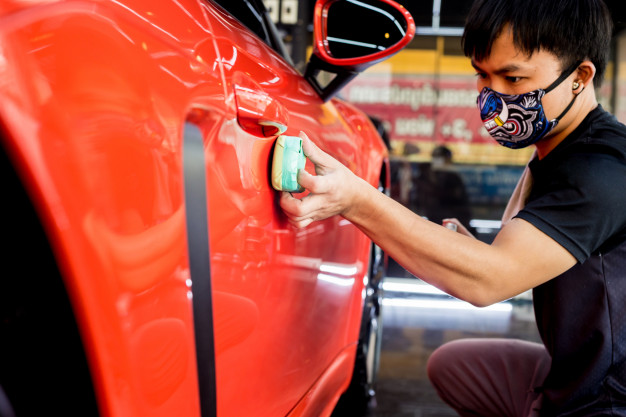 How Much Does Ceramic Coating Cost?
Ceramic coating cost varies depending upon the type of coating you want, your vehicle's size, age, and condition. The starting price of a new hatchback would be $700, which can go up depending on your car's size.
If you like to protect the wheels, glass, leather, and fabrics, the prices will increase. A used car is costly as it needs to go through the paint correction process before application.
So, the cost of ceramic coating paint depends upon various factors. Consider the following things before going for ceramic coating.
Research Well
Give a good time to yourself researching about the product, its brand, and the service providers. Well-known brands will provide a lifetime warranty, so do check it with the brand you choose. A lifetime warranty will ensure that the coating will last longer, and you can be assured of the quality that they will deliver.
Brand
You can approach a workshop, which is specialized in ceramic coating to get the right quotation. It's always safe to go for trusted brands and professionals. As it's a one-time process, you can't compromise on the quality to save some money. Also, going for a brand will ensure that they have the right tools and equipment to give you the best results.
Simply put, the ceramic coating can add value to your car and benefit your vehicle in the long run. You can cover all the painted parts of your vehicle to maximize its benefits. It does take a considerable amount of time to apply the ceramic coating. But once applied, it will stay for long and have the same finish even after years.