Wondering how to increase your ranking for your money keywords? A topic cluster could help you increase your ranking, drive traffic and generate more ROI for your business. 
To rank higher on Google Search Results, you must show how your topics relate to each other to increase the relevance of the copy. In addition, it shows you know what you are saying and it can direct more traffic to your site.
If you have always wanted to create a topic cluster but don't know how, here are some steps to help you with that:
Create a Niche for Yourself
You want people to be able to recognize your website with a particular niche. This makes it easier for you to create a topic cluster. 
Think of your niche as an area you want to build authority in. It should also be an area you are very knowledgeable about. When people think about such areas, your website should be among the top 5 sites that come to mind.
If you have done this before now, then you need to take a look at your website and create a content audit. Do you have sufficient content around the topic you want to rank for?
Brainstorm Sub Topics Around The Niche You've Picked
For instance, if your niche is Local SEO for Small Business Owners, then you need to come up with subtopics around this topic. Subtopics would include how to do local SEO, building local citations, local links and more.
For best results work with an SEO copywriter well versed in doing keyword research, fleshing out search intent and finding relevant subtopics around your overarching keyword.
If you are finding it difficult to come up with subtopics, you can make use of a  mind map tool and think about the different pain points of your target audience regarding what you offer.
List these pain points and turn them into content solutions for your audience. Collaborate with the different departments of your business so you can have ideas as to the topic to include. Hence, a team brainstorming would be ideal for this.
In addition, you can set up interviews and focus group sessions to discuss with your audience in order to help them solve the problems they are facing in relation to what you do. You should also validate each idea you come up with by conducting industry research.
Think About Your Keywords
Through keyword research is critical to building a fortified topic cluster. Keyword research is also an important part of your SEO copywriting checklist as it ensures you're creating content based on what your audience needs.
Doing this will give you a domain authority score for each sub-topic you have brainstormed.  A good tool you can use to easily achieve this is Hubspot strategy tool that helps you assign keywords to topic clusters.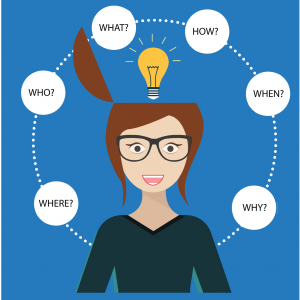 Develop Your Pillar Pages
Your Pillar Pages helps to cover the overall topic you have chosen in-depth and it links to the clusters of related content on your website. Some marketers make their pillar pages their services pages and then link to other related content on the site.
In addition, it is important that your pillar pages have relevant and high-quality pictures, custom graphics, valuable and interesting content, attractive headlines, as well as a compelling call to action. 
At the same time, leading traffic to your other pages.
Interlink Related Content
You must show that the topics on your website relate to each other, and one of the ways to do this is by linking related content. Remember to add relevant links to subtopics on your pillar page, this could be blog posts, resources, case studies, etc. Likewise, you need to link back your subtopics to your pillar page.
In order to show the relationship between your content, there must be an internal linking on your website. This helps Google to understand your keywords are relevant and connected.
You must also show how you extensively cover a particular topic, the reason why you need to demonstrate how your content relates to other content on your website.
Check your Analytics
In order to know if you have done a successful job, you need to measure. Your work doesn't end at just writing and creating pages, you need to know how your content has performed over a period of time.
Ensure you give yourself enough time to check how your content has performed. You don't finish implementing your SEO strategies today and then start evaluating the performance tomorrow.
Conclusion
Remember that you need to choose a topic that you are knowledgeable about, and then come up with subtopics that address the needs and pain points of your target audience. Doing this would help you get your topic clusters right from the start and also lead to successful SEO optimization.
Author Bio
Chima excels in creating SEO-optimized web content that drives traffic and increases conversions for online businesses. She is an experienced copywriter who has published on numerous top blogs such as Jeff Bullas, Search Engine Watch, and Hacker Noon. You can find her at Zenith Copywriting Agency.