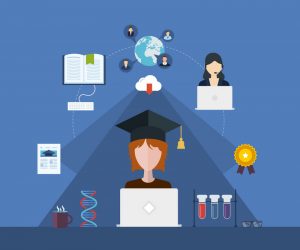 Accessible, high quality education that is relevant with regards to the needs of the market is crucial for any developing country's efforts to achieve sustainable development and prosperity. It ensures that the country becomes competitive in the global marketplace and leads to increased productivity, and a better quality of life. With more than 68 million children under the age of 15 to educate, Pakistan must rise to the challenge and create a sustainable path to a better future for the country and its youth.
Thus, universities, colleges and institutions of higher education must expand their resources to provide affordable education and relevant training opportunities. Depending solely on India governmental funding and an annual budget is not enough to meet the increasing demands of access, quality and expansion of higher education institutions. It is necessary that sustainable financial mechanisms that exist in perpetuity and increase each year (such as student endowment funds) and training centers that offer support to students wishing to establish their own start-up businesses are placed at each college/university.
Sustainable support
Public education, which is the least expensive education option and thus affordable to most Pakistanis is increasingly tasked with a greater number of students, the need for more financial aid to help talented but needy students, and attract and sustain qualified teachers. While governmental funding varies according to government priorities, educational institutions must take immediate steps to alleviate the financial burden of affordable education. Responding to societal needs by delivering quality and relevant education requires an ongoing commitment and therefore, a sustainable financial source. Private education may gather the same benefits from such sustainable financial sources.
Financial independence and stability
Additional funding resources to all educational institutions are needed at all times to expand their resources and to offer greater financial assistance to the many talented students that cannot afford to continue their education due to financial constraints. Most donations and scholarship funds are time-limited in duration. In general, they disburse the capital funds dedicated for financing a scholarship within the time frame directed, with little in the way of long-term perspectives.
Endowment funds are radically different. They are created for "perpetuity", in the sense that only a specific portion, namely, the accrued interest, may be used for the pursuit of the endowment's goals. In short, an endowment seeks a substantial sum at the outset that forms the equity, and scholarships are paid out from investment gains made from this sum.
Student entrepreneurship
Education must respond to the current challenges and demands of a society. It must support student entrepreneurship and innovation. Resources, both in the shape of knowledge and seed money, should be available for deserving students to support their ideas in the form of start-up businesses. Students need to explore their talents, innovate and experiment with new ideas using their own start-ups as a bridge to success even before they finish their academic training. While pursuing higher education, students are ideally positioned to utilise the time to come up with breakthrough ideas that can become very beneficial to them, to educational institutions and to businesses.
Students can benefit immensely by doing research, bringing together new ideas and taking calculated risks to bring to life businesses that otherwise would not be possible.