Oscillating tools are excellent for tasks like drywall cutouts, removing the grout, and trimming for floor installation. They can cut through metals, plastics, woods, and other materials. These versatile tools come with attachments that enable them to scrape, sand and grind. You will likely use oscillating tools sooner or later. Nowadays, a wide range of oscillating multi-tools is available at a low price. Choosing the best oscillating too can, therefore, be overwhelming. Luckily, this guide will help you make an informed choice and ultimately make the process a breeze.
1. Corded vs. Cordless Oscillating Multitool
Cordless oscillating tools that use batteries last between 10 and 45 minutes depending on the model and job. So you may need more than two batteries if you will be doing constant jobs such as removing grout. The cordless tool lasts a few years and will need replacement, which adds to the cost. The good thing about cordless oscillating tools is that they are mobile.
On the other hand, corded tools will last for several decades. However, corded tools require a power connection through a cord, which can affect movement. While you can go anywhere with a cordless oscillating tool, find one that matches the power of the corded machine will cost you a reasonable sum of money. Corded oscillating tools are cheaper and relatively more powerful. Luckily, oscillating tools applications are indoor which means that power connection will not be a big problem.
2. Cost
More costly tools are convenient and comfortable to use, especially for a longer time. They produce less vibration and give you a free accessory attachment system. Higher cost machines also tend to last longer. Therefore an expensive tool that will last longer is a good choice if you have a big job or you will be using the tool for a longer period. However, a low-cost model is a  suitable choice for occasional jobs.
3. Oscillation
Oscillating tools operate by moving attachments such as blades back and forth over a small distance between 2 and 4 degrees at a speed of at most 22,000 OPM (Oscillations per minute). The oscillations determine how faster the tool works. Tools with larger oscillations work much faster. However, tools that have smaller oscillations produce a more controlled and finer cut. Oscillation tools work within a small range of motion meaning that they will not spray debris.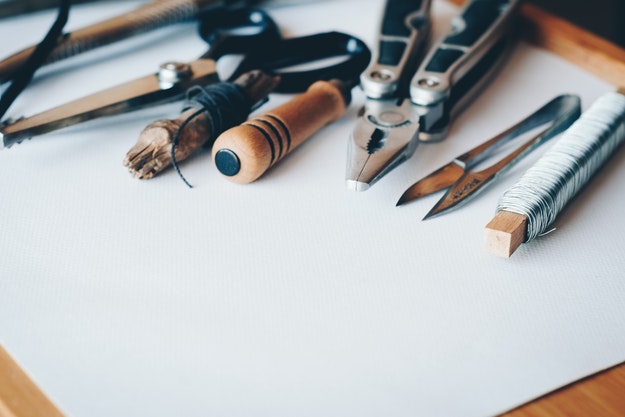 4. Control
The oscillating angle of a tool tells you how far it moves from one side to another. A more aggressive tool will move more. A tool that has a greater oscillating angle is relatively faster when cutting into surfaces. However, oscillating tools that have less movement offer better control and precision. They also run much smoother.
5. Oscillating Tool Kit Contents
Oscillating tools are sold as kits that contain assortments of accessories. It is prudent to check the kit content given the high cost of blades. Ensure you check the number of pieces.
6. Features
Different brands produce oscillating tools that have different features. You will, therefore, need to compare the price with the anticipated use and cost differential. Some great models come with speed trigger that allows you to reduce cutting speed and stop quickly when the blade overheats. Tools that offer variable speed have a dial instead of a trigger to control the speed. Low-cost oscillating tools run at a constant speed.
7. Attachments
To benefit fully from the oscillating multi-tool involves using accessories such as pads and blades. Some older models require a wrench to change attachment. However, high-end models do not require any tool to change multi tool blades. Another important consideration is whether the tool is compatible with attachments from other manufacturers.
Conclusion
Without a doubt, the oscillating tools are important to do it yourself tasks. However, the choice of multi-tools depends on factors such as weight and, more importantly, personal preference. This guide will help you choose an oscillating tool that fits you best.