Ever since marketing shook hands with the digital world, nothing has been the same for us marketers. We can now reach an audience we never imagined to and be opened up to so many choices we find challenging to pick from and get things done at the ease of a click. To enhance your digital advertising activities, consider working with a digital marketing agency!
Among the many difficult choices, one recurring one is the confusion between Google Ads vs Social media Ads – and rightfully so, you're spending a significant amount on ads, you need to ensure to pick one that brings you business. They're often pitted against each other and treated like rivals, with only one better than the other.
However, your business can get the most benefits by using them together in most cases. By the end of this blog, you'll know why!
Before we jump into the comparison: Google Ads vs Social Media Ads, let's get some introductions:
Google Ads:
Google is one of the biggest drivers of digitalisation: it has made it possible for people to succumb to the change while making their lives easier. On average, Google receives over 3.5 billion searches every day. (Source)
You can pay Google to show your business to your target audience among these searches. Google Ads (previously known as Google Adwords) is Google's pay-per-click platform on which you only pay when your potential customer clicks on your ad.
Social Media Ads:
Social media platforms have become more than casual posting, liking, and commenting. It has become a platform where people connect, engage in important conversations, voice their concerns and opinions, and run businesses.
Through social media, you can fulfil the stages of your upper funnel – building awareness and consideration. Facebook, the social powerhouse, tracks users' social behaviours and provides all that data to advertisers, so they know who's more likely to buy their product.
Now that the introductions have been made, let's understand the stark differences between Google Ads vs Social Media Ads: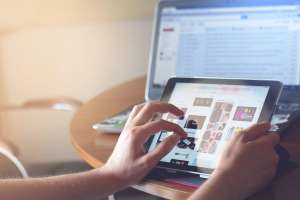 The difference: Google Ads vs Social Media Ads:
One of the main differences between Google Ads vs Social Media Ads is how the products are shown to users. While Google places importance on lead conversions, Social media focuses on brand outreach.
On Google, you can target the users based on what they search. You can pick a keyword for your business, and if they use the keyword in their search, Google will show them your website on the top.
For instance, if you pay for the keyword "shoes," and your user searches for shoes, your website will be among the top ones. To be more specific, you can also target people in specific geographic areas.
On the other hand, Facebook tracks behaviours and patterns of users, their likes and dislikes, and lets you target users based on that.
The key here is to know when you should use which advertising platform.
So, when do you use Google Ads?
If you require faster leads
To get ahead of the competition and ensure transparency
To get in touch with potential customers
For understanding your target audience better
When do you use Social Media Ads?
To improve recognition for your brand, build awareness, and increase brand loyalty
To gain deeper insights into your target audience
To grow your engagement rate
If you want to increase your inbound traffic
To create a community for your brand
Using both platforms, Google Ads and Social Media Ads is the best way to get the maximum returns. Since they both serve vividly different purposes, their combination can prove to be fruitful for your brand.
However, not all of us have a huge marketing budget. In that case, you should first determine your goals and note down what you wish to get out of your advertising campaign. As a result, you'll be able to make a clear choice between Google Ads vs Social Media Ads.
About Author
Karthikeyan is a digital marketer with sound knowledge in Search Engine Optimisation (SEO) and web design and development. Currently, he heads the SEO and web development team at echoVME Digital, a leading digital marketing agency in Chennai. With 10+ years of experience in the industry, he is the go-to person at echoVME for all SEO and website-related queries.