When it comes to cooking, people tend to use either a frying pan or a griddle pan. Before you decide which you will buy, you'll want to know what they're used for. You'll want to weigh the pros and cons of each, too.
Frying Pans vs Griddle Pans: What They're Used For
Griddle pans are perfect for frying bacon, grilling steaks, chicken, and pork chops. This is because of the rigid side. Some people use griddle pans to cook pancakes, eggs, hash browns, and other breakfast foods. Toasting paninis and grilling ham are other foods that can be cooked on a griddle pan.
Frying pans are typically round and have a smooth surface. They usually have deep edges, which is why frying pans are ideal for cooking pork chops, pan smear steaks, and for roasting chickens. Frying pans can also be used to sauté veggies or to braise meat before chopping it up and placing it in a stew.
Griddles: Pros & Cons
Here are the pros and cons of griddle pans:
1. The Pros-
Griddle pans are very easy to use. They require virtually no effort. Let's not forget to mention that cooking on a griddle is almost the equivalent of cooking on a grill.
Another benefit is the drip tray. This is where grease accumulates, which means it won't spread to any other surface. Besides that, griddles allow you to control the temperature.
Perhaps one of the biggest benefits griddle pans offer is they can be used to cook just about anything. Griddle pans are versatile, and they can cook food very quickly. Depending on which type of griddle pan you buy, you might be able to bring it camping with you.
2. The Cons-
Griddle pans are expensive. Even the ones that have the most basic features and are made with the cheapest materials tend to be expensive. The more features they have, the more money they will cost.
Secondly, you may struggle with washing a griddle. Food tends to become stuck to the surface of griddles. Depending on the type of griddle you use, the food may not easily come off.
If your budget allows, then go ahead and buy a griddle. Just make sure you take a close look at the features of the griddles you're comparing. If you love grilling and you want to cook fast meals, then you'll love griddle pans.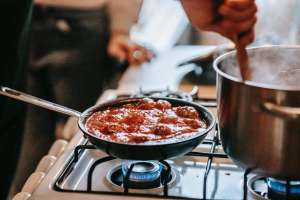 Frying Pans: Pros & Cons
The pros and cons of frying pans are:
1. The Pros-
Durability is the main advantage of frying pans. They tend to last a very long time. Secondly, they can be used in the oven. In turn, you have more options when it comes to how you want to cook and prepare food. You can buy a cover for a frying pan and then you can sauté your meals or place them in the oven.
Most frying pans sold these days are non-stick. You don't have to worry about spraying anything onto the pan to make it non-stick. Simply use your favorite cooking oil and you're good to go. Since the pans have a smooth surface, it means washing them is easy.
2. The Cons-
One of the major disadvantages of frying pans is their weight. Unfortunately, if you want a very durable frying pan, then you'll likely need to buy one that is made with heavy-duty material, such as cast iron. The most durable materials typically used to make frying pans mean that frying pans are quite heavy.
Which Should You Choose?
A frying pan is the better option if you enjoy cooking dense meals and/or you like using a lot of liquid with your meals. However, griddles are what you want if you love to grill food. Griddles are typically bigger than frying pans, so opt for a griddle if you cook for several people on a regular basis or buy a very large frying pan. If you want to cook food as fast as possible, then griddles are the way to go.
Regardless of which you decide to buy, you should compare as many griddles and frying pans as possible. You want to choose a high-quality frying pan or griddle pan. If you do this, then your pan will last for a long time to come.