Do you dream of wide open spaces, the smell of hay in the air, and taking in a beautiful view on horseback? Look no further than Utah's ranches for an experience that is out of this world.
Nestled between lush valleys and breathtaking mountain ranges, Utah houses some of the most remote ranches in all of America—perfect for adventure seekers wanting to explore nature while enjoying a unique outdoor activity.
Horseback riding in mountainous terrain has long been embedded in the culture here and remains one of the best ways to take part in a traditional Western experience. Join us as we dive deeper into how Utah can provide unforgettable memories through horseback adventures!
Types of Horseback Activities to Try Out in Utah's Ranches
There's no better way to experience Utah's vast natural beauty than through horseback riding. If you seek adventure, try out some of the exciting horseback activities available on Utah's ranches.
You can engage in horseback trail rides to explore the state's stunning landscapes, take lessons to improve your riding skills, or even participate in cattle drives or team sorting competitions for a taste of the Wild West.
Utah's ranches offer a diverse range of horseback activities suitable for riders of all ages and skill levels. Whether you're a seasoned equestrian or an inexperienced rider, there's something for everyone to enjoy in the great outdoors of Utah's ranches.
The Benefits of Horseback Riding on Utah's Ranches
Utah's ranches are not just for cowboys anymore. Horseback riding has become a popular activity for individuals seeking an authentic Western experience. Not only is it a thrilling adventure, but it also has numerous benefits for both physical and mental health.
Horseback riding is an excellent form of exercise and can improve posture, balance, and coordination. Additionally, spending time with horses has been shown to reduce stress and anxiety levels.
Whether you are a seasoned rider or a beginner, Utah's ranches offer a unique opportunity to connect with nature, learn about horsemanship, and discover the benefits of horseback riding.
Tips for Novice Riders to Enjoy a Safe Ride on a Ranch in Utah
For novice riders looking to explore the scenic trails of a ranch in Utah, safety should always be a top priority. To ensure a safe and enjoyable ride, there are a few tips to keep in mind.
First and foremost, always follow the instructions of the guide or instructor. They are there to make sure everyone in the group has a safe and enjoyable experience. It's also important to choose a horse that suits your experience level and abilities.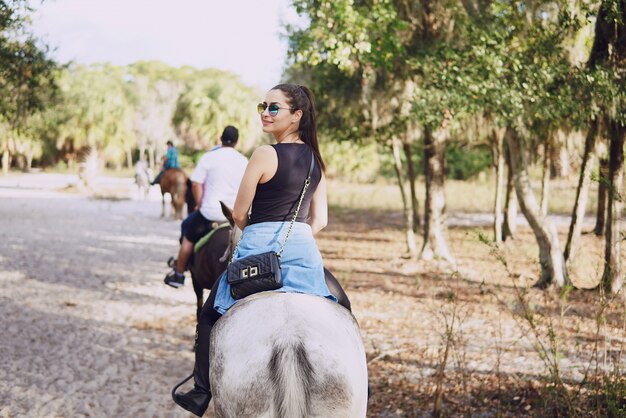 Don't be afraid to ask questions and voice any concerns before heading out on the trail. Remember to always wear proper riding gear, including a helmet, and stay alert and aware of your surroundings.
With these tips in mind, novice riders can confidently explore the beautiful trails of Utah's ranches and experience the joy of horseback riding in a safe and responsible manner.
What Types of Facilities Are Available to Enhance Your Experience in Utah's Ranches?
Utah's ranches offer an immersive experience that connects visitors with nature and a simpler way of life. To make the most of your visit, these ranches provide a wide range of facilities that enhance your stay.
The options vary depending on the location, but you can expect amenities such as horseback riding lessons, hiking trails, fishing ponds, and ATV tours. Additionally, many ranches boast a selection of cozy accommodations, from cabins to luxurious lodges.
Imagine waking up to the sound of birds chirping and breathing in the crisp mountain air before enjoying a hearty breakfast, all while surrounded by picturesque scenery. Whether you are seeking adventure or relaxation, Utah's ranches have something for everyone to enjoy.
Making Memories at Utah's Ranches Through Horseback Activities
Utah's ranches offer memorable horseback activities that provide great opportunities to connect with nature, appreciate scenic views, and create unforgettable memories with loved ones.
Whether you're a seasoned rider or a beginner, the thrill of exploring new trails and experiencing the unique beauty of the great outdoors is beyond compare.
From sunrise to sunset, you'll be immersed in the serene and peaceful ambiance of the ranches, surrounded by majestic mountains and pristine landscapes.
The friendly staff and knowledgeable guides will ensure that you have a safe and enjoyable ride while also sharing interesting facts about the area's history and ecology. With Utah's ranches, you're guaranteed a memorable experience that is sure to leave a lasting impression.
In conclusion, horseback riding on the Utah ranches is an activity that will make your trip to the state one you won't forget. Taking time to understand a horse's body language is also important in ensuring a positive experience with horses on Utah ranches.