In the current business norm, technology has become a pivotal asset in the bookkeeping sector in the UK. On-site consulting has taken the form of remote off-site briefs, with accounting and bookkeeping software playing an integral role in providing consistent accessibility and promoting accountability in business operations.
Traditional bookkeeping norms have been replaced with technological sound cloud-based bookkeeping software and companies are able to track real-time data, hold remote sessions securely, and forecast business growth through cutting-edge financial insights.
With a plethora of free UK bookkeeping software available to businesses, they are now well-equipped to manage financial data with precision, save time and costs and steer their companies onto the path of productivity, profitability, and tremendous growth.
Traditional payroll has morphed into an automated, full-service system
The current user-friendly bookkeeping platforms allow companies to ditch the traditional payroll ledger and benefit from full-service options where employee onboarding and payroll management are automated since data is directly synced to the cloud. Such automated features in free UK bookkeeping software like Dext have made payroll tasks hassle-free and time-saving as small businesses no longer have to manually deal with compliance regulations and other repeatable payroll complexities. It ensures accurate pay-by-pay invoices to enable seamless management and helps your business grow beyond its present potential.
Another important development in the payroll departments is the level of engagement in free UK bookkeeping software, giving companies a chance to develop employer-employee, employer-contractor relationships in a manner that wasn't previously possible with virtual technology and this is extremely useful in today's post-pandemic world. Now, companies can keep track of employee records, birthdays, anniversaries, and so on to strengthen bonds with employees and subcontractors.
Cloud-based bookkeeping software has transformed how clients and bookkeepers interact
The ability to share real-time reports and discuss business financials with your clients through cloud-based platforms — such as Dext's bookkeeping software — has eliminated the need to make frequent on-site visits for business-to-business consultations. Companies can ensure uninterrupted reporting and stay connected with clients on costs, supplier spending, and revenue. Both bookkeepers and clients can view bank statements and invoices in real-time, and make changes as required. This is truly a game-changer!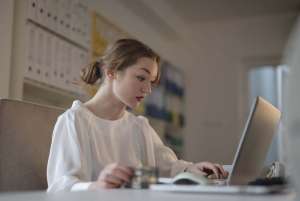 Financial transactions can be directly downloaded from the client's business accounts and credit cards statements for maximized precision. For instance, free UK bookkeeping software allows users to compose accounts by seamlessly uploading client invoices and receipts to their accounting software. It allows connections with over 1,400 suppliers where compliance to customer rules and bank matching is ensured.
Bookkeepers can maintain regular communication with clients through chats and in-app live sessions to discuss accounts-related details and ensure that all the parties are aligned, and there is no room for misunderstandings.
Automation has made way for error-free financial operations
Nearly 80% of executives in accounting rely on automated processes to gain a competitive advantage. Close to 79% believe that automation increases productivity. Dext facilitates a 20% increase in the client-to-staff ratio.
With automation of manual processes in accounting and bookkeeping, companies are looking at improving quality in, sans errors and inefficiencies. This is why bookkeeping firms around the world are adopting automated solutions to deliver seamless and state-of-the-art service to their clients.
For instance, Dext offers the award-winning assurance of quality and accuracy to build confidence in your clients' data. Bookkeepers who use automated, precision software can drastically reduce the time taken to accomplish day-to-day activities while ensuring a significantly reduced number of errors. With companies saving valuable time on client paperwork, they can redirect these resources to core areas of the business and contribute to rapid growth. Not to mention, it increases their client capacity by 50%.
Automated software captures critical information from your invoices, statements, and documents, saving hours in data entry and eliminating duplication and errors. This information is sorted on the basis of region and suppliers, to provide real-time access to financial data.
Automation is expected to dominate the bookkeeping market in the UK
It is estimated the cloud-based free UK bookkeeping software will contribute to a 15% growth in the year-over-year revenue for companies. Such firms also report onboarding 5 times as many clients as the ones that rely on traditional accounting practices.
The latest innovations surrounding free UK bookkeeping software will evolve to become interdisciplinary and dominate how financial management is conducted in the foreseeable future. Real-time analytics will pave the way for powerful insights and improved decision-making to give companies the much-needed competitive edge in the market.
Bookkeepers should incorporate innovation and financial restructuring in their modus operandi to deliver maximized value and expertise to clients.
If you are looking to get started with free bookkeeping software, reach out to us at Dext for a free 14-day trial. Our experts will be happy to guide you!