Owning a small business is no walk in the park! As many small business owners know well, between shipping, receiving, answering customer requests, marketing, and managing staff, there isn't much time or energy for managing your books. While bookkeeping is an important task for any business, it often doesn't fall high on the list of priorities for many small business owners. If you spend your time wishing you were doing anything else other than bookkeeping for your small business, it's time to read the 7 bookkeeping hacks below.
While it may seem like an administrative burden, there are plenty of benefits to doing your own bookkeeping. Not only will you get valuable insight into your small business – you will also build knowledge so that when and if you hire someone to take over in the future, you can be sure that it is being done correctly.
So without further ado, here are 7 hacks to make small business bookkeeping easy:
1. Use a good quality small business bookkeeping software
Step one is getting yourself set up with quality small business bookkeeping software. Bookkeeping is often such a dreaded task due to the data entry element, but thanks to the latest cloud-based accounting software most of that can be automated. When you use a small business bookkeeping software, you will spend most of your time gathering and verifying info rather than entering it into a spreadsheet.
When choosing software, always remember that you get what you pay for. The best way to choose software is to look at what you want to do with your business. If you are running a business that you intend to grow, go for a paid software such as Xero or Quickbooks online that has plenty of tailorable features and the ability to integrate other software if needed later. If you are a solopreneur or a freelancer, you may be able to go for a free or lower-cost alternative. These types of software are best for simpler needs, but keep in mind that they may require a bit more manual entry.
2. Learn to use your software properly
Once you have selected the best software for your needs, it's time to learn how to use it. Most software will come with an instruction book or set of videos that explain how to get started, and it's well worth the time to read through the 'getting started' information. Learn how to use your tools right from the start so that you can use them well later.
Another important note: When you are ready to start using your new software, never skip the setup steps! If you spend the time to set up the software properly, it will function much better for you down the road.
3. Start with solid data
If you are trying to get your bookkeeping organized, it is best to start fresh. Go back to a date where you know your data was solid, ideally back to when you first started your business or the last time you filed a tax return. This date is known as the 'conversion date' and identifying it allows you to bring accurate data into the software.
4. Use a separate bank account

The golden rule of small business finances is: always open a separate bank account for your small business. Not only will this make your bookkeeping much easier, but it is also just a great general hack for small businesses. Keep your personal transactions separate and treat your business account as a separate entity by opening a second account ASAP.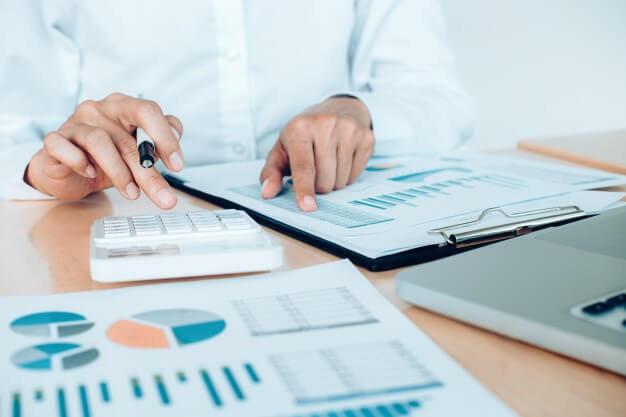 5. Move existing data into your software

If your small business had a credit card and/or bank account setup from the beginning, this step is easy for you. You can easily export transactions from your bank account and add them to the software.
If you haven't always had a separate account, you will need to do some cleaning before you can move the data into your bookkeeping software. First, export the data from your personal account into a spreadsheet. Next, go through each line and delete any personal transactions. You can then import the remaining business transactions into your software under a separate account called 'due to owner'. Because most software allows you to link your bank account directly, you will likely only need to do this import once – as long as you have that separate bank account set up!
6. Organize your data

Now that you have your data in one place, it's time to categorize your transactions into accounts. Most software will already have a list of accounts that you can use for categorization, so all you need to do is take your imported transactions and sort them into buckets. This step is important to separate revenue and expenses into categories that make sense so that you can understand how money flows through your business.
7. Always know your bank balance
Finally, you have your software, your data is imported and ready to automatically populate, and your transactions have been organized. Before you start bookkeeping, you should always know your bank balance. This is the most important number to know as it can tell you if you are missing transactions or have duplicate transactions in your system. If the number in your software does not match your bank account, something is wrong and it's time to take a closer look at your money. To avoid having books that are wrong, always keep an eye on that bank balance.
Once you have followed the above hacks, it's time to get to work on the bookkeeping itself! Here are some quick things to remember:
Schedule a regular time to do your bookkeeping! At a minimum, you should do your books monthly, but many small business owners do this task weekly. Find a time that works well for you and stick to it religiously.
Check your bank balance first. When you sit down to do your bookkeeping, the first step should always be to refresh your bank feed and make sure it matches what your bank balance says.
Categorize your transactions. You will likely have new transactions that need to be categorized into the appropriate bucket. If you need to link your transactions to receipts and invoices, feel free to explore a variety of software that can further automate this process for you.
Treat yourself! Keeping the books can be a daunting task – don't forget to reward your hard work.
Try out the above tips and watch your bookkeeping go from a dreaded task to an absolute breeze. Still, need help getting your small business bookkeeping organized? You should reach out and search for Victoria accountants.