Awnings are a beautiful fixture in the home, fitting in well in several areas. While awnings beautify the house, one question still weighs heavy on the minds of many homeowners. This question is "Do awnings add home value?". If you have been wondering if awnings add value to your home, then the answer is yes. This article will discuss everything that you need to know about how awnings add value to your home.
How Awnings Add Value To Your Home
Awnings have a lot of benefits, through which they add value to your home. Below are some of the ways in which they add value to homes.
With the shade that they provide, awnings provide homeowners with valuable space for entertainment. You do not have to spend extra costs on securing canopies or coverings of the like. With an awning, you can have guests over without having to worry about rain or harsh sunlight. You also get to enjoy more space in your home, by having a shaded spot provided by the awning.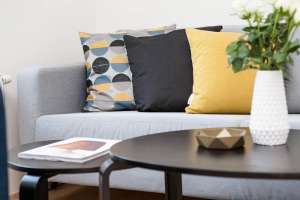 Awnings help to protect your home from the elements. This covers protection from sun, hail, rain, and snow. All you have to do is secure the awning properly and securely, and you can be sure that your home gets protection from these elements. Parts of the critical areas of the home that awnings protect include the door frame, patio floor, porch, door casings, window frames, and more. Another essential fixture in the house that awnings protect is the furniture. While many people think that this only covers outdoor furniture, it also covers indoor furniture. For outdoor furniture, the awning directly covers them from the elements. For interior decoration and furniture, ceilings give them protection from direct sunlight. This extends the lifespan of your furniture, ensuring its durability.
The awning helps homeowners save energy, by extension saving them a lot of money. The awning blocks direct sunlight from home, reducing the amount of air conditioning needed to keep the home cool during summer. In the cold season like winter, awnings can also help provide warmth in the house; this is possible by retracting the awning, allowing sunlight to bring warmth into the home.
All of these advantages that come with awnings, help to increase the market value of your home in the long run. Ceilings add beauty and appeal to the house while being efficient in protecting the home from the elements. In addition, it helps to regulate power usage in the home.
Protection From Bird Droppings:
One benefit of awnings that a lot of people do not talk about, is the protection that they provide patios from bird droppings. With an awning in place, you do not have to worry about your outdoor furniture getting stained by bird droppings. Getting an awning set up, might just be the change that your home needs to get a higher value.