If you're planning to give your dream house a fresh look, getting it painted can be the best way out. But with so many paint options around, how do you know which paint will best suit your house walls? Many people take a pick depending on the color they like but seldom do they inquire about the paint base.
Different bases have different qualities, making them preferable over others. If you want to choose the best paint for your house, first select a top-notch paint brand, like Berger paints, and then start filtering the paint options depending on their base type. To make your paint selection process easier, we've listed down the paint types according to their bases, along with the information you might need to know them better.
Oil-Based Paint
Known for their hard finish, oil-based paints are preferred by many as they have always stood the test of time. They are also known as solvent-based paints by some. You should look for oil-based paints if you want something that is durable, reliable, and keeps your house wall looking beautiful for long.
If you're painting any surface that is prone to receive stains on a regular basis, oil-based paint should be your choice. Its stain resistance properties ensure no stain remains on the surface for long. You can easily wipe any stain on an oil-painted surface with a clean cloth. The only downside of oil-based paints is their high drying time.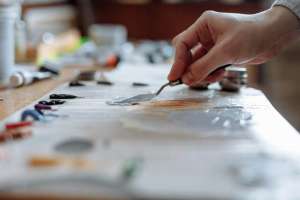 Latex-Based Paint
Exterior walls are mostly painted using latex-based paint because it is resistant to the harsh effects of sunlight. This paint quickly contracts and expands along with the house siding and also doesn't trap any moisture. What makes latex-based paints desirable by many is their easy application and quick dry time.
You can get latex-based paint from Nerolac paints of your favorite color. As it's easy to apply and causes less mess around the painting area, you will rarely encounter any problem with this paint. Acrylic latex is the popular, top-most latex paint for any building material.
Water-Based Paint
If you want to get your beautiful house painted faster, water-based paints can help. Though these paints are not at par with oil-based paints when it comes to resilience and long-lasting results, they do have advantages of their own. Water-based paints dry super quickly, so professional painters can apply multiple paint coats on a single day, fastening the painting process.
This paint is easy to clean up, and you can remove any stains using a mild mixture of soap and water. So anyone getting their interiors painted with water-based paint will have an easy time keeping their wall surface clean. One of the biggest advantages water-based paints have over oil-based paints is their smell. Water-based paint doesn't have an unbearable smell and it doesn't give off noxious fumes too, which is not the case with oil-based paints.
Use Primers to Prepare Your Walls for Painting
Whether you choose to go ahead with water-based paint, latex-based paint, or oil-based paint, you cannot proceed with painting without prepping your walls using primers. A fine coat of primer ensures the paint gets applied smoothly, and the final finish has no flaws. If you hate discolorations, a primer will seal the surface, acting like a protective layer.
Now that you're aware of all the paint types according to their base and the need to use a primer before getting the walls painted, you should not face many difficulties purchasing the paint essentials. Just make sure you buy the paint and primer from a well-known brand for quality purposes.
Read More: How Much Does Paint Tool SAI Cost?