The COVID-19 pandemic has highlighted the need to disinfect workplaces and maintain hygiene levels, both personally and in the workplace. However, the need to disinfect workplaces thoroughly has been important for years, long before anyone had heard of COVID-19.
The great thing is, that with the right tools and approach, it's not as difficult to disinfect thoroughly as you may think.
Clean Your Hands
Before you can start any type of disinfecting process you need to ensure that you're not going to be increasing the rate of bacteria in space. While it's not practical or even necessary to wear a hazmat suit, you should get into the practice of using hand sanitizer. Once you've cleaned your hands you can slide on a pair of latex gloves.
The gloves will stop you from picking up bacteria and transferring them to different places. It's a practical strategy and a good safety measure.
Create A Plan
To properly disinfect any space you need to evaluate what items are in the space and decide an order in which to clean them.  For example, a typical office desk will have a keyboard, mouse, pen holder, telephone, monitor, and perhaps some other stationery items. There is no right or wrong way to clean these items and the desktop, as long as they are all cleaned thoroughly.
Interestingly, the average office desk has more bacteria than the average toilet seat.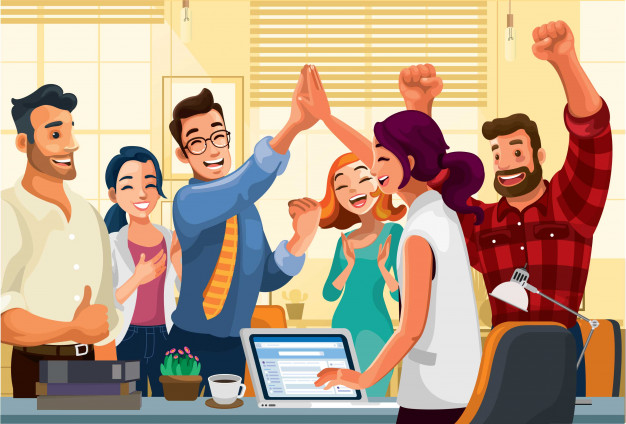 This approach should be used for all desks in the workplace, it doesn't matter whether you're asking staff members to clean their own desks or have a specialist firm to take care of it for you.
However, you should randomly inspect the cleanliness levels. This will keep your employees on their toes, ensuring the desk areas are cleaned properly.
Providing Sanitization Products
It's a good idea for the company to supply all the sanitization products your employees need. This ensures there are no excuses regarding the desk cleaning. But, you should also provide disinfectant wipes and hand sanitizer for your employees to use on a regular basis.
This will help to stop the growth and spread of germs.
Professional Backup
Perhaps most important of all is the assistance of professionals. A professional firm will thoroughly clean and disinfect your office space in very little time.
It's a good idea to schedule a professional clean once a week and get your staff or in-house cleaner to hand the rest.
Consider Sickness
The best way of keeping your workplace clean is to avoid spreading germs in the first place. This means sick employees should be encouraged to stay at home, they can work from home if they feel up to it.
At work, employees should cough and sneeze into their arms and avoid touching their faces too much. They should also be aware of when they may have touched their face or sneezed into their hand and take the opportunity to wash their hands properly.
A few small steps can become a habit and, as part of a disinfection strategy for your workplace, make everyone feel safer.