Enormous in size, floor mirrors can bring a significant wow element to your interior — while effortlessly overcoming a few challenges of designing along the way too. Be it the one that rests on your floor leaning against a wall or hanging majestically as one of the prominent focal points of your living room area; these show-stop pieces leverage the power of lighting to enhance the aesthetics of your place. For some of our favourite examples, please continue to read on.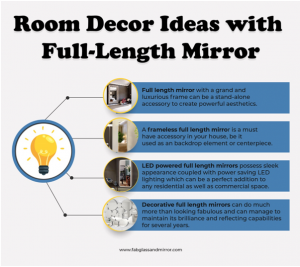 Full length framed mirror on the floor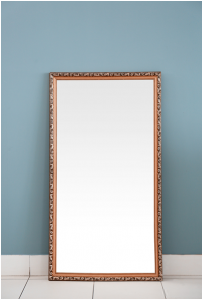 A full-length mirror with a grand, opulent frame can be a stand-alone accessory to pull off a powerful aesthetics. Intricately detailed with rococo flourishing, it can help bring a dramatic impact to the otherwise bland and dull wall of your living area. We simply adore how a casual lean positioning can produce luxuriously unexpected implications.
Pick a right framing colour that complements well with your wall for that grandest feel— you may try a blanched white and soft grey pairing to add the oomph factor. Apart from that, a bright metallic framing would certainly shine against any shade of the wall. You may choose to add a decent seater in the front of the leaning mirror to complete its utilitarian functionality too.
Full-length frameless mirror fix on the wall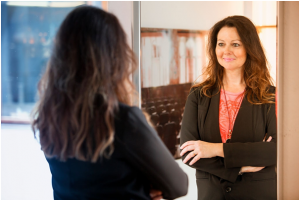 Adding a full-length mirror to your wall is a perfect and easiest way to add decor to your home that is often overlooked. Be it used as an accessory, backdrop element or centrepiece, a wall mirror is ideal and a must-have addition to your house. The intriguing piece is capable of instantly introducing colour, illumination and mystery to any space it is put in.
You may also choose to go with a frameless mirror— we recommend you to pick the one with a bevelled glass finish to generate a contemporary visual appeal. You are also likely to find acrylic and Plexiglas options much lighter to carry and install in comparison to the conventional glass mirrors.
A full-length mirroring is particularly useful if you have a tiny room. Flanking the high-quality reflector with some decent wall light fixtures is an excellent way to bring more light into the area and pull off an illusion of ample space quite effortlessly. Speaking from the perspective of functionality, a full-size frameless wall mirror can also help limit the annoying shadow formation while you are getting dressed up.
Full-length LED Mirrors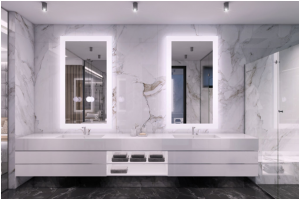 LED Lighted full-length mirrors are no longer merely used to improve the aesthetics of your green room areas. Their sleek appearance, coupled with power-saving LED interior builds up a bright and contemporary visual that is a perfect addition to any room in residential as well as commercial spaces.
Lighted mirrors provide outstanding illumination for vanities, changing rooms and foyers (pleasant places for commuters to pause and make quick touches to their makeup, hair or clothing). Light mirrors can be put practically in any area — they not only come in different forms and dimensions but can be installed on your walls both vertically and horizontally.
Another big USP of LED arch mirrors is that their advanced versions come pre-fitted with an innovative anti-fog arrangement. That makes it possible to use the mirror immediately after you have moved out of a hot water bath, steaming or sauna. So, no more waiting for the fogginess to settle down or to indulge in a wiping session to make it usable again. The de-fogging effect is achieved through a small heating system that starts evaporating the droplets as soon as the fog sets in. LED lighted mirrors are elegant and offer a futuristic aesthetics to your interiors. These can be incorporated seamlessly into any space to pull off a classic and luxurious look. With illuminated full-length mirrors, the layout and styling options are practically endless.
Full-length Decorative Mirrors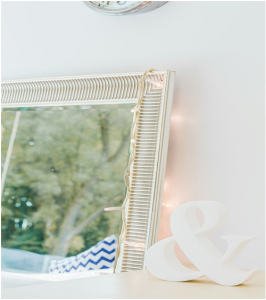 Ornamental mirrors can do much more than looking fabulous. A high-quality decorative full-length mirror can manage to maintain its brilliance and reflecting capabilities without much ado for several years in a row. Reputable Decorative mirror retailers online typically have access to one of the best mirror manufacturers across the world. They happen to procure the raw material from the professionals in this field besides offering you an unbeatable price on a premium product. You may choose to either lean or hang your embellished mirror with opulent framing in the key areas such as living room, bedroom, hallway or dressing spaces. They will not only improve aesthetics but also serve their functionality well—A full-length ornate mirror can be used to get dressed or make a rather congested room look big and spacious with one simple addition.
Combine your decorative mirrors with vanity lightings to make a bold statement and add character to your space.