It only takes a few days for the modern household to fall into a state of chaos. This has never been more true than when families experienced lockdown together and had less freedom to roam. 
Fortunately, there are decluttering tricks that can help tidy every room of the house. Use these amazing decluttering hacks then liven up each room with some new plants.
Living Room Decluttering Tips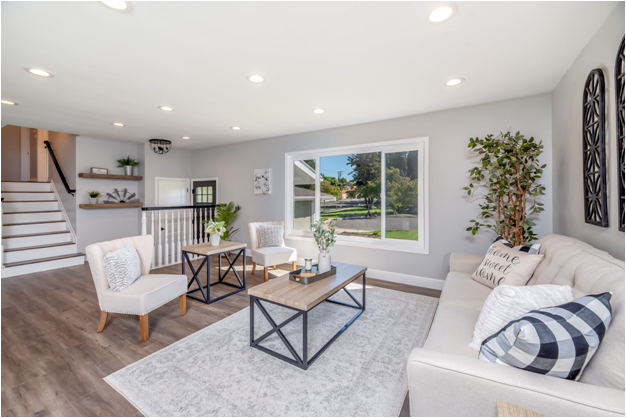 The living room is a high traffic area where messes tend to accumulate. To stay on top of this space, dedicate ten minutes of each day to tidying and putting things in order.
Use Multipurpose Storage Furniture
Multipurpose furniture is a lifesaver in the living room. There are plenty of large furniture options that have additional storage contained within. For example, you can get an ottoman that holds toys or blankets inside. This feature lets you tidy the space quickly and efficiently without having to add extra storage units. 
You can also use multipurpose furniture to improve the flow of your living room. For example, nesting coffee tables with additional surfaces or seating underneath are fantastic for entertaining and easy clean-up.
Invest in Baskets
Baskets are a fantastic way to add to the decor of your living room while creating additional storage space. You can use these to hide everything from toys to unsightly wires and tools. 
Before you go buy a ton of baskets, map out how you'll use them in the space. Where will each basket go, and what will it contain? Taking this approach will help prevent additional clutter and baskets that emulate junk drawers.
Try Knurling
Some families have what's known as Flat Surface Syndrome. It's the inability to resist setting junk on a flat surface whenever one becomes available.
Prevent FSS by trying your hand at knurling. This organization technique is the foundation of Instagram flat lay photography. The idea is to fill the surface in a functional way, using even spacing to make it aesthetically pleasing. Knurling is a fantastic way to hide things in plain sight. 
Best Plants for Living Rooms
Living rooms tend to have more space and even temperatures than other rooms. You can push the size with your plants in this space and adapt your choices to the lighting situation.
Snake Plant
Snake plants show off their stunning foliage in a vertical growth pattern. They're a low-maintenance plant that comes in a variety of shapes and sizes, and can adapt to the room they're given to grow. Snake plants are one of the winners from NASA's clean air study and effectively remove toxins from the air.
Dracaena
Dracaenas— AKA dragon trees— are another hardy plant that takes care of themselves. You can get small breeds that are ideal for a tabletop or larger variants that grow to be over six feet tall. Remember to read the fine print when buying!
Kitchen Decluttering Tips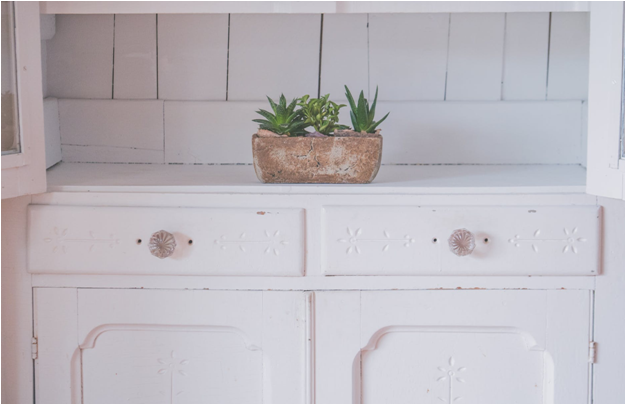 If your life feels like an endless cycle of cleaning your kitchen and messing it up again, you aren't alone. The secret to keeping your kitchen decluttered is streamlining your cabinets and keeping small appliances and tools in zones where they will be used the most. 
Customize Your Cabinets
If you have an opportunity, add customizations to your current cabinets or plan ahead for a kitchen remodel. Find the best online cabinets to suit the size and shape of your kitchen. Consider adding retractable drawers and trundles for better usage.
Add Wire and Plastic Racks
If a kitchen remodel isn't in the near future, add wire and plastic racks to optimize the space. These implements add another layer of shelving and make it easier to see what you have in your cupboards.
Best Plants for Kitchens
Kitchen plants need to be adaptable to changing heat and humidity levels. It also makes sense to have functional plants you can use in cooking and mixology.
Lemon Mint
Lemon mint is a fan favorite for kitchens. The benefit of growing lemon mint is that it's easy and useful in both dishes and drinks. Lemon mint is versatile and works well in baked goods, meat dishes, and cocktails. This lovely herb grows well in miniature gardens and creative planters, like mason jars and teacups. 
Aloe Vera
Aloe vera is another hardy desert plant that can withstand changing humidity levels. This plant is also perfect for the kitchen as the gel within is soothing to burns. Put it in a sunny window and watch it grow. 
Bedroom Decluttering Tips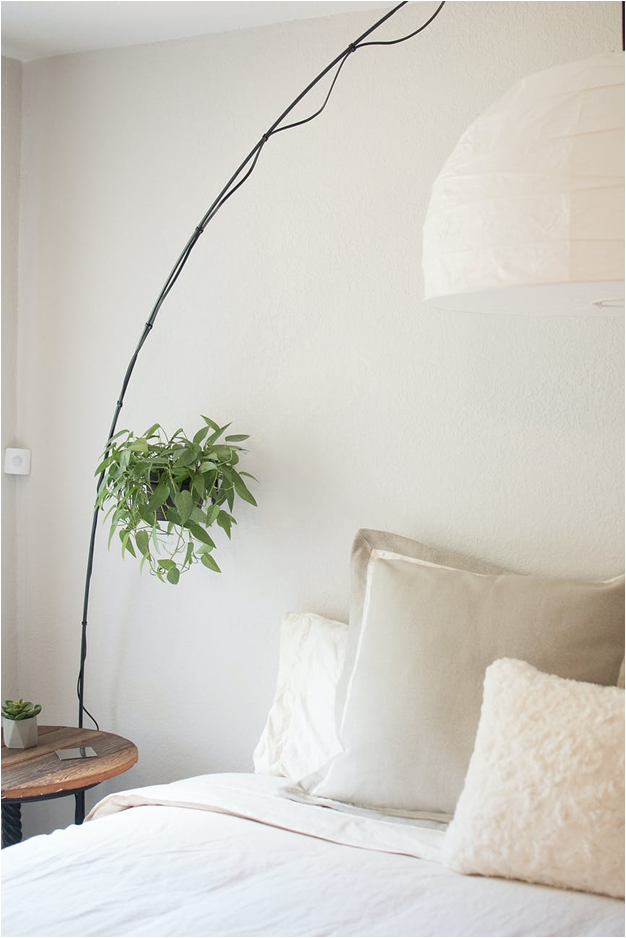 Bedrooms tend to accumulate personal junk and clothing. The key to keeping your bedroom decluttered is making the most of every inch of the room.
Use the Back of Your Door
The back of your bedroom door is the ideal location for storage. Add a few hooks and rails for scarves, hats, jackets, etc. Conversely, you can hang a shoe organizer here for shoes and accessories to keep your closet clean.
Use Trundles
Use shallow trundle totes to store things under your bed. This spot is perfect for seasonal clothing, shoes, and other items that you don't need access to every day. Trundles also prevent things from mysteriously disappearing under your bed and make it easier to dust and keep this space clean.
Best Plants for Bedrooms
Bedrooms tend to be dimmer than other rooms in the house. Choose plants that can thrive on low light and offer an aromatic experience to help lull you to sleep.
African Violet
African violets are dainty flowers that do well in dark spaces. These simple blooms are a nice pop of color on a dresser or bedside table. Be careful when watering these plants as the leaves are sensitive to excess moisture.
Lavender
Lavender is a lovely addition to any room, both live and dried. The lavender scent has long been used in aromatherapy to ease anxiety and help people sleep. Lavender can be tricky to grow indoors and benefits from exposure to the sun.
English Ivy
English ivy is hard to kill. This vining plant looks fantastic in hanging baskets on either side of your bed or windows. The vines have a curtain-like effect that breathes life into any room. As your ivy grows, you can propagate it for new baskets or as gifts for friends. 
Bathroom Decluttering Tips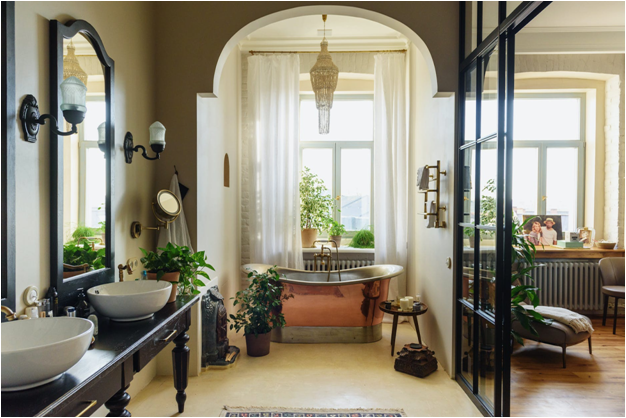 Bathrooms are often the smallest room in the house. To keep this space decluttered, you need to install functional storage options.
Create Built-In Shelving
One of the best ways to declutter your bathroom is to add built-in shelving between the studs of interior walls. These shelves can be used to store anything from hair products to cosmetics. Add a door or framed photo on top to keep the room looking tidy. 
Take a Hygge Approach
Hygge is the Danish design trend of creating comfort and contentment. You can invoke this feeling by showcasing your towels in artful arrangements and channeling your inner spa manager by showcasing organized products rather than hiding them.
Best Plants for Bathrooms
Bathroom plants need to thrive in low-light, high-humidity conditions. Think jungle plants that grow under a thick rainforest canopy. Even with limited space, the pop of color and air purification qualities of these plants make them a must-have.
Boston Fern
The Boston fern loves bathrooms. These lush green plants can grow to monstrous proportions under the right conditions. Set this beauty beside your tub or in a hanging basket.
Lucky Bamboo
Lucky bamboo is another plant that does exceptionally well in bathrooms. These stocks grow well in rocks, meaning you don't have to worry about soil quality. As lucky bamboo will pull a lot of moisture out of the air, you don't have to worry about frequent watering. 
For your lucky bamboo to thrive, you'll need to change the water every few weeks— similar to caring for a goldfish.
Use these decluttering hacks and plants to keep every room of your house looking clean and lively.