Having a tattoo is a great way to express your personality. However, over time, tattoos tend to fade or change their appearance.
Many great ideas exist if you want to cover up your old tattoo. From bold black cover-up tattoos to intricate designs, there's something here for everyone.
Ankle
Ankles are a trendy place to get sexy small tattoos. It is also one of the most accessible areas to conceal if you work in a profession requiring you to wear specific clothing.
Tattoos are a great way to show off your personality and add fun to your everyday life. With so many options available, deciding what kind of tattoo you want can be challenging!
Back
Whether you're looking to hide an old tattoo or want something different on the back, tons of cover-up tattoo ideas can help you.
One of the most effective ways to conceal a tattoo is using darker ink. This black sleeve tattoo perfectly covers an old tattoo idea and leaves no trace of it behind.
Arm
If you are tired of your old tattoo or have a new one inked on a body part, you can use cover-up tattoo ideas like some dark forearm cover up tattoos to make it look new.
The key to a good cover-up is to design it with dark shades and light shading to camouflage the previous tattoo or scar.
Chest
The chest part of the body is a great place to put a larger tattoo design. It is a perfect canvas for pirate ships, birds of prey, religious symbols, and other intricate designs.
This beautiful chest tattoo features an ornate hourglass with bloody red liquid cradled atop a wreath of laurel leaves. Enormous wings bestowed with black, white, and red shades spread majestically at the back while a ribbon with a quote written on it flows at the bottom.
Neck
When it comes to getting cover-up tattoos, the neck part of the body is one of the most challenging parts to hide an old tattoo.
Fortunately, plenty of neck tattoo cover-up ideas can help you hide and turn your old tattoo into something new. We've rounded up some of the best, from full-sleeve designs to half-sleeve tattoo ideas.
Shoulder
One of the sexiest body parts of the body is the shoulder. Whether you're looking for a large tattoo or a small design, plenty of great options are available for this body area.
Tattoos on the shoulder are often combined with sleeve tattoos to create an entire piece of body art. Shoulder tattoos are also an excellent cover-up option, especially if you have a faded design you want to keep.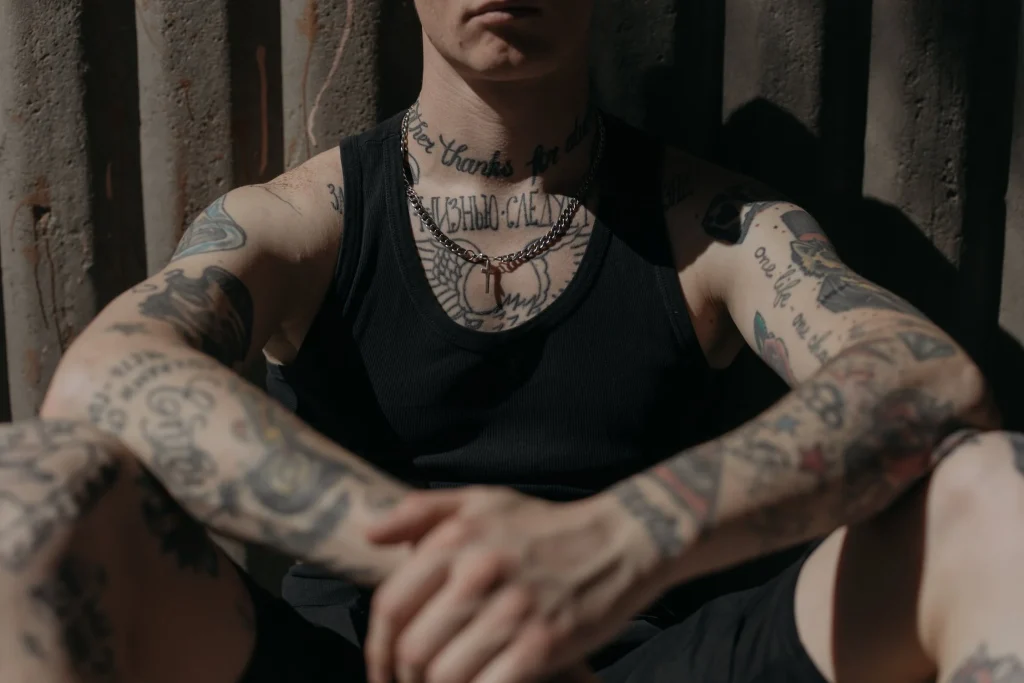 Wrist
The wrist is a popular place for cover-up tattoos. This is because it has a lot of detail and excellent colour that works to camouflage the old tattoo or scar.
Full flower designs are frequently chosen as cover-ups for this area because of their colour and detail. They are also great at concealing dark colours.
Back of Hand
The back of the hand is a great place to showcase some art. It is the perfect size for a small design or a large layout and can be easily covered up with little effort.
It is no secret that the back of your hand is one of the sexiest body parts, so getting a tattoo there is certainly a no-brainer for some.
Forearm
The forearm is a popular placement for expressive artwork with deep meaning. These pieces can be small, detailed, or simple to create a striking look.
Some of the most popular options for forearm tattoos are half sleeves with initials, portraits, or religious imagery. They also provide an excellent space to show off a winding quote or a nautical piece that symbolizes your love for the water.
Back of Leg
The back of the leg is a great place to get a tattoo because it is less visible than other body parts. It is also a low- to moderate-pain spot because of the thick skin, fat, and muscle that provide cushioning.
The calf is another popular place to get a tattoo. This spot is an excellent choice because it's not painful, and the calf muscles are more muscular than other leg areas.