One of the best ways to ensure you have a smooth and efficient lifestyle in your tiny home is to utilize every square inch as efficiently as possible. Some tiny homes are as little as 100 and 300 square feet, yet homeowners have used their postage stamp size space so efficiently that they are able to happily and smoothly function while being able to touch each wall of their home at the same time.
Here are some clever tricks for utilizing the space in a tiny home as efficiently as possible
Many people do not often think of their walls as an untapped resource for more space in their homes. But walls are actually a great resource for utilizing space efficiently. Some of the things you can use your walls for include:
Bring in a tall bookshelf extend it to the ceiling or individual bookshelves hung in a row along the wall throughout the length up to the ceiling for more storage space.
Install some bike hooks and hang your bike on the wall.
If you really love plants you can opt to hang them on the walls instead of placing them on the floor or the counter.
You can even hang folding chairs and folding tables on the wall to utilize more floor space that these items would take up if they were not foldable.
Use wall sconce lamps for lighting instead of table or floor lamps.
Walls are also perfect for foldable furniture. Tuck away, fold up, or slide under modular furniture, beds, seats, tables, and anything you don't use all the time.
Put storage in the wall between the studs. No need to waste that valuable space between studs in the wall. Make cabinets right into the side of the home.
Related Post: Making the Most of a Condo Renovation Space
When picking out furniture to put in the main living space of your tiny home choose furniture that has more than one use for your small space. Some tiny homeowners opt to bring in a side chair that they can use as a side table to their sofa but also can be extra seating when they have guests over. Instead of a coffee table, you could use a trunk or a bench that has hidden storage.
Also, you can use both sides of a floating shelf. Attach jar lids to the underside of a shelf and use the jars to house spices, hardware, screws, nails, or anything small that can be seen quickly and accesses easily.
Floating shelves under the shower or up against the bathtub is a great space-saving idea for towels, soaps, and cleaners.
Additional: Unique Tricks for Storing Holiday Decorations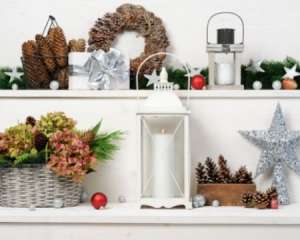 Choose furniture that you can hide things under
Instead of a sofa with legs that you can see everything under, choose one that has sort of a skirt liner around the bottom where you can place things under the couch, and they remain hidden by the skirting on the bottom of the couch. This gives a very large area of storage space.
Turn stairs into drawers. If your tiny home has stairs, make each star its own drawer that can be pulled out for storage.
Use the space around doorways
The bit of space between the top of the door and the ceiling is usually never thought of as usable wall space, but this area could hold shelves baskets, and a host of other items.  Shelves above door frames are perfect for storing books and small items. Use floating shelves so that the brace doesn't take up valuable wall space.
Don't give up on those awkward angles and corners
Since you saved so much money on your tiny home and are continuing to save so much with a lower monetary commitment, you can splurge a little on custom shelving for those awkward nooks and crannies that are sitting as empty space. By placing some custom-made shelving that fits an awkward angled corner or nook you just opened up a whole new world of storage.
Open overhead shelves can also be a great space saver. Position shelves that are attached to the ceiling over smaller spaces where you won't bump your head to store pots, pans, books, spices, and anything that you'll want to get to quickly right over your head.
Getting creative is the key when buying a tiny home but these storage tips should help get you started.