A significant part of the U.S comprises immigrants, which include Latinos. These groups are known for their close-knit relationships and entrepreneurial ability as they have over time overtaken the small business sector of the economy. As a Latino immigrant, the process of obtaining loans and resources to start up that business idea may be overwhelming.
Most times, they might not have the option of borrowing money from financial institutions due to discrimination and lack of qualification. Therefore, it is crucial to explore lending platforms that offer ITIN loans without requiring strict IDs and SSNs. Being a Latino immigrant, many business opportunities with high success rates are available once you get to give them a try.
Catering Businesses
Over time, the catering business has grown to become one of the largest in the nation's economy, with a market size estimated to reach $12 billion in 2021. The Latinos have a variety of exciting dishes that intrigue other ethnic groups, hence the high profitability this business yields. From restaurants to food trucks, this sector is one booming business idea that can facilitate financial growth.
English Language learning Schools
As more non-English speaking immigrants like the Latinos arrive in the U.S, there is a rise in the need to educate them on the official language. An ESL school is a buoyant business idea as its market alone hit about $10 billion in 2021. As an immigrant, if you are grounded in the English language, you could set up a registered school to help fellow Latinos for a profitable price.
IT Support
Although a significant part of the population thinks that they are tech-literates, they need some help finding their path in the online space. Setting up an IT support center where you could help build websites or teach people the rigors of digital tools is an idea to consider. It can suffice for younger Latinos who may be better acquainted with the modern tech ideas to earn a living.
How Latinos Can Succeed in Their Business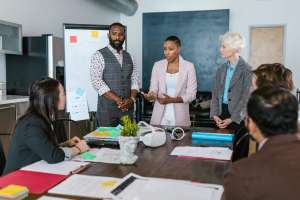 If you're a Latino Entrepreneur, here are some tips to succeed in whatever business you chose to startup;
Ensure you get a clear business plan.
Attain the correct information and guidance.
Ensure that you are credit-ready and worthy.
Ensure that your business is Investor-worthy.
Some Financing Options or Latino Small Business Owners
For Latino small business owners, the chances of getting finances from traditional means may be low due to some restrictions often faced. For better financing options, here are some sources to consider;
Crowdfunding
Crowdfunding platforms can help entrepreneurs give financial boosts to their businesses. They allow them to pool little investments from various investors rather than seeking out just one investment source.
Online Lending Platforms
Due to the difficulties, many Latino entrepreneurs face when sourcing loans from traditional financial institutions. There may be some restrictions likeSocialsecurity numbers, creditworthiness, etc., that limit an immigrant's lending power. Online lending platforms offer ITIN loans that ensure Latinos get the funding they need without excess requirements.
Credit Cards
Credit cards are a valuable source for obtaining short-term loans to finance small businesses. Latino immigrant entrepreneurs could harness this platform and avoid charges of interest rates as long as they pay it off promptly.
Conclusion
Having the right business idea can sometimes be difficult, as passion might not always be lucrative enough. The emergence of fintech lenders, such as Camino Financial, who offer ITIN loans, helps bridge the gap between a great business plan and its actualization.