Left unadorned, your windows are just cavities in the walls of your home. But when you add coverings such as curtains, blinds, shades, or shutters, it takes on a different look, meaning, and function. With these additions, you can shut out too much sunlight or let it in. they also ensure the privacy of your space and aid ventilation.
If you live in a place like North Carolina, there would be days when you want the warm summer sun to stream into one room or the other in your home.  Conversely, the sun may get too bright and you want less of it.  So getting the blinds and shades in Charlotte NC should be on the priority list for homeowners/makers (especially new homeowners or those who want to redecorate).
Apart from being used for windows, you can use these coverings hinged together to demarcate a room. You can also use it to cover work areas that you don't want outsiders/visitors to see.
Difference Between Blinds And Shades
Most times, people refer to blinds and shades as the same thing but there are some slight differences. We would explain these differences before we go on.
Blinds
These come in different types and sizes and can be made with different materials.  The following are some of its features:-
They have individual/separate slats that can be adjusted upwards or downwards.
They can also be tilted from one side to the other which lets you control how much sunlight you want in the room.
Most blinds have a cord that's located to its side for upwards and downwards adjustment. A rod at the other side on the other hand controls the opening and closing of the slats and also the tilt.
Shades
These also come in different sizes and types and are made with different materials. However, they do not have individual/separate slats like blind. They are made from a single whole material.  This design means that they can only be adjusted upwards and downwards and not sideways.
Types Of Blinds And Shades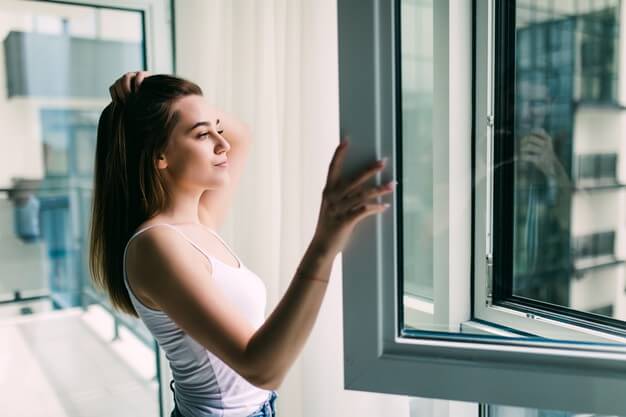 When it comes to interior décor of which these coverings are part; there are so many options to pick up. We would briefly give you a few types of both window coverings. Note that this list is not exhaustive.
Venetian Blinds
These are unarguably the most common and most used types that there are. They come with horizontal slats that are held together by tapes or strings; these tapes are actually strips of fabric. When you raise a Venetian blind, the slat at the bottom presses into the one on top of it.
Panel Blinds
These types are most commonly used for large windows or patio doors. They are designed to open and close by moving along a track.
Vertical Blinds
These ones have individual/separate slats that are drawn across a track that is at the top. They can be designed to open from the middle or from one side to the other. Although they can be used for regular (small) windows, most people like to use them for patio doors or windows that run from ceiling to floor.
Mini Blinds
Mini blinds operate like Venetian blinds, however; they have slats that are smaller in width than regular Venetian blinds. These slats usually come in at about an inch in width.
Micro Blinds
They are a smaller version of the above and the slats are usually about half an inch in width.
Pleated Shades
These are made with material that is pleated to form a pattern that looks like an accordion. They can be raised or brought down. Although they look like Venetian blinds, they are most commonly made from paper or fabric.
Roman Shades
These are window coverings that are made from materials such as seagrass or jute. They come in different styles but one thing is common with all types of Roman shades; it continues to fold into itself when you raise it.
This makes it form a big stack of material on top of the window if you raise it totally. The result is that the space of your window with a view when the blind is totally up is reduced.  Apart from this disadvantage, Roman blinds have a timeless and classic look.  You can check this article out if you want to know more about Roman shades
Tie-Up Shades
These can be defined as a cross between a curtain and a blind. They are made with a wide variety of materials. They are made with a swath of material that has ties that extend past the lower part of the shade.
You raise this type of shade by rolling up the material and tieing it in place. It gives your space a country or casual look that can fit in with a wide range of décor styles.
The Best Place To Buy Blinds And Shades
There are many places where you can buy your window blinds or shades. They include the following:-
A paint/tile shop
Home centers
Furnishing stores
Interior decorator's shop
These are all physical locations where you can touch and feel the products.  These places give you samples for which you pay a refundable fee. With these samples, you can ascertain that your choice is the best fit for your home.
Most retailers and decorators even undertake to help you measure the space to ensure that you get the dimensions right. They are also usually willing to make a refund if the products do not fit well.
However, in this day and age where people prefer to shop online, some people may attempt to buy these items online.  While this may work out well, it is a bit risky. This is because you cannot get to touch and feel the product that you want to buy.
Although some sellers would promise a return, you might not want to go through the hassle. We feel that the best option is to go to a brick-and-mortar store where you would feel the material. Apart from that, you also get the benefit of physical consultation.
Conclusion
Buying and fixing window blinds in your home or office is not rocket science. You can check out this video for more insight: https://www.youtube.com/watch?v=pWOBbBXFdW4#
 But there are some questions to settle before you go ahead.  They include the following:-
What is the main purpose of the blind?
Is it decorative or just functional?
What type of blind would work best for you?
Conversely, you can just ditch the whole stress and hire an interior decorator to handle the project.