Alaskan king crab has a unique and savory flavor that is a real delicacy. Fresh crab has a naturally buttery, delicious flavor that needs little seasoning in order to reach its full potential. Though it is great on its own, king crab makes a wonderful addition to any meal. There are wonderful king crab recipes that can help you explore new and exciting ways of preparing the crab. One great recipe is for king crab rice.
For this dish you will need eight ounces of thawed Alaskan king crab legs, two cups water, ½ pound hot sausage, one cup uncooked rice, one small minced garlic clove, two tablespoons minced green onion, one chopped medium green pepper, 1/8 teaspoon curry powder, two chopped medium tomatoes, and one cup of thawed frozen peas. This combination of ingredients will help you create one of the best king crab recipes on the market. It is best if you are able to get your hands on the freshest of ingredients. The crab legs are flash frozen right after they are caught in order to preserve the naturally great flavor and it is only right that the other ingredients be of an equal level of freshness.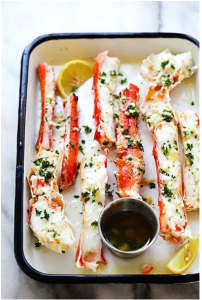 Once you have gathered the freshest ingredients, begin preparation by cutting the crab legs into two-inch pieces and crumbling the spicy sausage into a large skillet that has been heated with olive oil over medium heat. Then add the rice and garlic, sautéing the combination until the rice is a nice golden brown. After the rice has reached the desired color, add water and curry powder to the mixture and bring it all to a boil. Reduce the heat, cover the skillet and allow the ingredients to simmer for twenty minutes or so, then stirring in the tomatoes, pepper, and peas. At this point, you should add the crab legs, cover the skillet again and allow everything to simmer for another five minutes until the vegetables are a little tender but still retain some crispness. You have now completed one of the tastiest king crab recipes. All you need to add is a little onion as a garnish and the meal is ready to eat!
Shopping for fish can be difficult these days, especially for consumers who are trying to do right by the environment while still bringing home something delicious and affordable. Thankfully, many different fish populations are on their way to recovery, with particular areas of the oceans not even experiencing problems.
One of the best bets for a delicious and nutritious meal is Alaska snow crab. The icy waters off the coast of Alaska are a host to a thriving population of snow crab, many of whom migrate from deeper waters to shallower waters and benefit greatly from the fresh and unspoiled conditions in their feeding grounds. Better yet, the meticulously managed fisheries for Alaska snow crab means that this delicious and veritable protein source is in no way in danger of being overfished currently, making dinner a delicious and guilt-free affair.
Preparing snow crab is a relatively straightforward process, and those health-conscious chefs can rest assured that snow crab tastes equally delicious boiled or steamed. Simple to prepare, it's easy to class up any dinner occasion with minimal effort. Whether you're a beginner chef or seasoned professional, you can surely handle Alaska snow crab. Here are two recipe suggestions to get you started.