When looking for a transportation means to rent, most people miss the benefits of UTE. They usually go for cars, vans, or trucks, as these meet their needs. For example, a comfy sedan is an excellent choice to sit back and drive for hours. A spacious van will do well when you need to move some bulky items.
A UTE can do both (visit this page for further explanation of this type of vehicle). You can have a four-wheeler that can take five people comfortably and carry a load of a few hundred kilos in the cargo tray. On top of everything, it can go off-road anywhere in Australia and be equally efficient as on-road.
Newer models are highly refined, as they are comfortable, quiet, and manageable. This reliable four-wheeler is an excellent choice both as a family and business vehicle. And if you don't need it all the time, the great news is that you can hire UTE and enjoy its benefits for a bargain.
Business Usage
Perhaps the greatest benefit of renting UTE is its capacity to provide a great service and reliable transportation for people and things. That can be quite convenient for your business purposes. While most people assume that trucks and vans are too big and expensive to be used for short-term work, UTE can be equally efficient but more economical.
These vehicles are available in different sizes and models. They can range from small to full-sized 4-wheel drive vehicles. That allows individuals and companies to choose a model that will meet their needs, finish their work, and not burden their budget.
UTE is a great thing to operate locally. But there's no obstacle to transport supplies and materials over long distances and to remote locations. Most companies doing the delivery or transportation of people and goods will gladly decide to hire UTE as a replacement vehicle.
Businesses that rent UTE can take their vehicles with them anywhere they go. They don't have to worry about maintenance or repair costs, which come with owning a business vehicle. If you need occasional transportation, hiring is a much better option than buying.
Transportation of Bulky Items
Sometimes you will need to shift a bigger piece of furniture, a large TV, or you will move. Maybe you're tired of constantly asking your friends to transport you some bulky piece, or you just want to cut costs when moving to a not-too-distant location.
If you don't have your own car that can meet these requirements, consider renting a UTE. It is a one-time expense that you will be able to bear. This four-wheeler is smaller (and cheaper) than a moving truck and more spacious and durable than a regular rent-a-car vehicle.
Off-Road Adventure
Commercial vehicles are not too comfortable and desirable for personal use. Besides being too large and impractical, trucks and vans have higher fuel consumption and running costs. Plus, these are less flexible than some smaller four-wheelers. That's why they are not such a good option for off-road driving.
But with hiring a UTE from a reputable company, like CVG Hire, you certainly won't go wrong. These four-wheelers can withstand much more weight and loading pressure when traveling off-road due to their greater clearance rating. It allows for longer journeys without the risk of collision or skid damage.
A larger passenger capacity means that you can drive the vehicle more efficiently. You can carry many things with you and have peace of mind as these will stand still inside the cargo tray. UTE has the necessary height to drive off the asphalt, so you will worry much less about possible damage than if you embarked on this adventure by car.
Because UTE can be driven off-road, it can bring benefits for hunters. Many people rent these four-wheelers when going on treks, hunting trips, fishing, and other outdoor adventures. Rentals allow people to travel on terrain that is often not suitable for typical cars, such as hills, wetlands, snowy or muddy areas, etc.
High Safety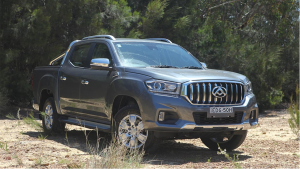 Another benefit of renting UTE is its safety. Most off-road vehicles come with standard safety features such as airbags, traction control, and anti-lock brakes. These traits are designed to provide the driver and passengers maximum protection in case of an accident.
Off-road vehicles are typically well maintained and come with extensive warranties. In fact, most rentals come with factory warranties covering major components, parts, and crafts. As a result, UTEs are much more reliable and durable than mainstream vehicles.
Easy Drive
The ease of driving this off-road vehicle is another factor many people enjoy. And while many struggle with a truck and even a van, driving a UTE is no different than driving a 'regular' car. It may take you a while to get used to the massiveness and larger dimensions. But you will master the basics very quickly and enjoy the ride.
The off-road drive requires some specific skills, as seen below:
https://www.hotcars.com/basic-off-roading-tips-and-mistakes-guaranteed-to-get-people-stuck/
Many people like the added benefit of traveling with friends and family without worrying about space issues or safety concerns. Even when the tray is fully loaded, you won't feel that. UTE has enough power to provide you with a safe and comfortable ride while carrying a significant load in the back.
Cost-Effectiveness
Whether you want to fulfill your dream and go on an off-road adventure once a year or move without your own vehicle, hiring UTE pays off. You pay the rent daily, and when you calculate the final cost, it will be much less than if you bought a vehicle that you will use on such rare occasions.
A typical utility vehicle can be an excellent choice as a family vehicle when you go sightseeing. It's more affordable than a luxury sedan, but it can compete with comfort and reliability. The only running cost you'll have is gas.
UTE vehicles became a thing these days in Australia. Manufacturers focus on this growing market and come up with upgraded models that you can find in hires. So if you need a vehicle for some outdoor adventure, an occasional business need, or simply to shift some stuff, UTE is the right thing for you.