The last period has been pretty tough for the whole world. Some people had to work under challenging conditions, while others may have had more free time than they wanted. If you are in the second group, it may have occurred to you to start a side job or find a hobby that will fulfill you. Have you perhaps considered making money of craftwork?
For example, you can make custom vinyl apparel, stickers, signs, and all kinds of printable things that you can put on almost anything. You may be wondering why vinyl? It is versatile and very durable, and of much higher quality than ordinary printable paper.
You don't need professional tools to pursue this hobby. As seen here, you can also start a small business if you have a marketing sense. It's enough to be creative, to have a color inkjet printer, and a reliable cutting machine. If you get a good cutter, you can do wonders with vinyl.
Speed and Quality
As we said, you will very quickly learn to work with vinyl cutters and accompanying software. If you plan to make signage professionally, you will soon be able to offer your products to the market. It also means that very little time will pass from the time of receiving the order to making and delivering the desired design to your customers.
Even when you start mass production, a quality cutting machine will be able to handle it. A better operating unit can not only cut but provide a lot more options, like doing etching or doing embroidery. Newer models of cutters use laser technology. It makes cuts even more precise and makes outlines faster.
Make Anything You Imagine
The whole process of creating vinyl accessories begins in your brain. What you imagine, you need to put on a sketch and print. The machine is here to transfer your idea to the material. If you get an excellent cutter (and this usually means paying a little more), the possibilities of working on it are almost unlimited.
These machines are not complicated to operate. What you need to set are the speed, blade depth, and cutting strength. You adjust these settings, depending on what you want to do. As you gain experiences, you'll learn which setup is for which type of work.
Very quickly, you'll improve your cutting skills and handle the machine faster. On vinyl cutter, you can realize a large number of projects, either for your own or business needs. If you still practice cutting vinyl, slower speeds will help you do that more precisely.
Digital Driven Cutters Are Quiet and Easy to Use
Driving engines are the 'hearth' of cutters. Currently, two models are available – stepper and servo. The first is more economical, due to lower running costs. You can consider it if making vinyl accessories is your hobby. But it is advisable to have a separate workroom, as these machines are quite noisy.
On the other hand, if you want to work in peace, a digitally-driven cutter is your thing. The units with these engines produce less noise, make more precise cuts, and are more suitable for making smaller stickers and signs.
The moves of the blades in digitally-driven cutters are smoother, and both straight and curved cuts are more accurate. These models have a tracking option (keeping the straight path). These are much better than vinyl cutters with a stepper engine.
Good Cutting Machine Is Built to Last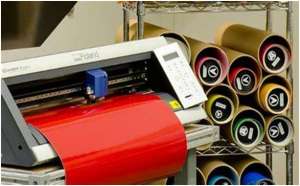 There are a large number of vinyl cutters on the market in different price ranges. Beginners and those who are making signage for a hobby do not need a machine that has a large number of options. For them, there are functional and simpler variants. It is best to look for units that can process vinyl rolls of different lengths and widths.
In most cases, the package, apart from the cutting machine, contains everything you need – from cables to a software CD. Some manufacturers of vinyl cutters also provide a large number of extra blades. That can save you from buying these spare parts, at least for a while.
Vinyl cutters don't break often, but if that happens, below read how to troubleshoot the problem:
https://craftcutguide.com/not_cutting_properly/.
Although the blades are quite high quality and long-lasting, if you use the machine a lot, they will wear out sooner. In principle, blade replacement is the only thing you should do once in a while if you want the quality of your work to remain the same.
Software Ease Your Work
A significant advantage of working with vinyl cutters is that most software is free and easy to use. In them, you can make a design of your choice, and then the computer will transfer it to vinyl. Some of these programs are web-based, while many of them can also be used in offline mode. Even if you don't know how to set them up, you can find explanations, experiences of others, as well as advice from more experienced users of vinyl cutters on the Internet.
The running costs for good vinyl cutters are low, and you'll be quite happy with that. If you use this unit for business purposes, it is advisable to get at least one more. Work will be twice as fast, and you always have one 'spare' machine in case of the other breaks down. It is an investment, but it pays off very quickly.