Did you know that more than 10 million people in the United States camped for the first time in 2020?
Camping trips are a great way to connect with friends, family, and nature without having to spend a lot of money.
If you are interested in a camping trip but don't know what to expect, there are a few things to know about.
Continue reading to discover the key elements that you need to focus on as a beginner camper going out in nature!
Find a Campsite
One of the first things to focus on as a beginner camper is a campsite.
Camping can be a lot of fun whether you are in a simple area or one that is filled with picturesque views. Most people try to look for campsites that are near parks, tourist areas, and lakes. When you go camping, you are in the middle of nature, so you should try to choose an area that interests you.
Once you find a city and state to explore, go online and search for areas where you can put a tent up!
Buy Equipment
Looking at a camping supplies list will help you prepare for the trip and any scenario you encounter.
Experienced campers recommend bringing a couple of sources of light. This outdoor light guide will help you find suitable lights for your tent and location. Having lights, a tent, and sleeping bags are necessary.
You will also need to purchase cooking equipment and pack knives to cut things with. Depending on what you plan to do on your trip, you might also want to pack recreational items.
Do a Trial Run
A smart camper will do a trial run of their camping trip ahead of time.
Many people recommend setting up your tent in the backyard. This will ensure that you know how to put it up and that everything goes together. One of the worst things that happen to first-time campers is that they spend too long setting up the tent or can't get it up.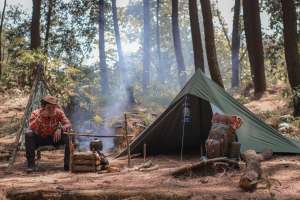 Think About Comfort
When you go out in nature you should expect to sacrifice a little bit of comfort, but you don't need to sacrifice it all.
Blow-up mattresses are a great option if you can blow them up from the power of your car or have a battery-powered blower. Sleeping bags and pillows are also good because it can get cold and night and besides the tent, you won't have much to protect you from the environment.
Excel as a Beginner Camper 
If you are a beginner camper and don't want to have a miserable trip, there are a couple of things to prepare.
Aside from picking a campsite in an area that you are interested in, you will have to buy all of the tools and equipment. Packing smart and doing a trial run ahead of time can help you be the most prepared and ensure that everything works.
Many people recommend going on your first camping trip with someone who has experience camping.
Be sure to check out our blog for more articles about first-time camping trips and having fun outdoors!
Read More: A Guide to Select the Ultimate Battery Generator for your Camping Trips