Glamping (glamorous camping) presents the rugged fun of a camping adventure while still providing comfort and amenities. Some call it luxury camping. This type of travel has become immensely popular with modern tourists, meaning there are even more destinations opening up for you to explore.
Globally, glamping is escalating. Need help choosing your next glamping destination? Here's a list of seven of the top places to go glamping across the world.
1. EcoCamp, Patagonia, Chile
Situated in the center of Torres del Pine National Park, South America, EcoCamp is both an award-winning sustainable dome hotel and a glamping spot. The completely sustainable resort, the region's first, boasts green technology. Tourists can embark on guided wildlife adventures and dine with other guests before retiring for the night, watching the stars under their very own dome ceiling.
The domes are categorized into simple suite domes, community domes, and yoga and wellness domes. Most of the camps are basic; if you want more privacy and amenities, get one of the suite domes, which come with ensuite bathrooms.
2. Four Seasons Tented Camp, Thailand
Four Seasons Tented Camp Golden Triangle is a natural paradise surrounded by mountains in northern Thailand that borders the countries Laos and Burma. It is set in a gorgeous bamboo jungle that's near many of Thailand's oldest civilizations.
Visitors here can interact with elephants and explore amazing mountain trails. In the bamboo forest, guests can also enjoy the resort's outdoor spa service, experience Asian-inspired rituals, and enjoy the mountain botanicals in the resort's open-air living rooms. The area contains over a dozen tents that treat guests to more than 575 square feet furnished with a hardwood deck, paddle fans, and even leather chairs.
3. Shinta Mani Wild, Cambodia
Shinta Mani Wild, located in Cambodia, is a new resort for adventurous glampers. The world-class hotel is located in the Cardamom Mountains near a picturesque river and waterfalls. Designed by famous resort designer Bill Bensley, this boutique hotel is a part of a community program where you can interact with locals and directly assist the Shinta Mani Foundation.
The resort is located in a wildlife corridor connecting the Bokor and Kirirom National Park together. The main purpose of this resort is to protect the river valley from mining, logging, and poaching. Tourists can use the zipline to cross over a waterfall and into the Landing Zone Bar. Next to the bar, there's a waterfall restaurant – a spectacular forest setting to enjoy meals and unwind with a drink.
4. Cloud 7 Camp Al Sawan, Ras Al Khaimah
Cloud 7 Camp Al Sawan is an eco-friendly glamping resort located in the UAE's northern emirate, Ras Al Khaimah ruled by Sheikh Saud bin Saqr Al Qasimi. The glamping resort is set among the sand dunes of Al Sawan and features more than 50 desert lodges. You'll get the opportunity to experience the local agriculture whilst exploring the beautiful sandy surroundings.
The glamping space is next to a farm featuring some of the most popular Arabian horses, falcons, and camels. The resort has been built and designed by Ireland-based famous hospitality group Kerten.
Tourists can enjoy luxury amenities and sustainable hospitality at this beautiful eco-friendly resort. Al Sawan resort has been designed to support the local RAK community, contribute to the growth of ecotourism, and create a destination that offers a cultural experience in an exclusive environment.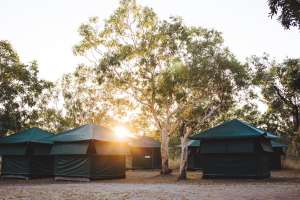 5. Clayoquot Wilderness Resort, Canada
Clayoquot Wilderness Resort is an exotic getaway where explorers enjoy both luxury and wilderness in Canada's Pacific Rim National Park. This resort is only accessible by seaplane. The resort is set among magnificent forests with a sense of closeness towards nature. It offers visitors an unforgettable experience and helps them understand the way of wildlife.
The canvas tents feature antiques, down comforters, woodstoves, and other amenities. Vans if the visitors are lucky enough, they can see black bears and whales. The resort offers an outdoor spa where you can enjoy a massage along the waterfront and soak in the resort's popular cedar hot tubs.
6. Singita Sabora Tented Camp, Tanzania
Singita Sabora Tented Camp is located in a beautiful wilderness area, which is spread out over 300,000 acres in the north part of Tanzania. Because the camp is set in one of the migration routes of the Great Wildebeest, it is a perfect destination for those who want to enjoy an exotic African safari while also being pampered with creature comforts.
Singita Sabora Tented Camp treats guests to mindfully created interiors and a rich combination of textures and functional aesthetics. You'll also enjoy your own meditation deck, outdoor daybed, and fitness area. The resort even features a lifestyle unit equipped with a pantry and dining area.
7. Longitude 131°, Australia
Located in the heart of Australia, Longitude 131° is a transcendent experience of discovery and is Australia's most celebrated luxury camp. With views direct to Uluru and Kata Tjuta National Park (world heritage wonders), it simply makes your tour worth all your hardships.
There are 16 luxury tents in this region, where you can watch Uluru's changing lights sitting at the edge of your bed or from your balcony. If the tourist wants to enjoy the natural culture, they can certainly do so with a local guide.
Dining at this place brings together the finest and freshest cuisine collected from all around the world. Spa Kinara offers a relaxing spa experience and offers aboriginal massage techniques with local natural healing ingredients.
We hope that these glamping destinations will provide you with a truly unique and unforgettable travel experience.