Truck driving can be quite hectic due to the discomfort some drivers sustain while covering long distances. There are various things which can distract truck drivers, frustrate their driving experience and cause them some discomfort.
Needless to say, every truck driver wants a satisfactory level of comfort while on the road. In that case, below are 7 clever tips to help you maintain comfortable truck driving.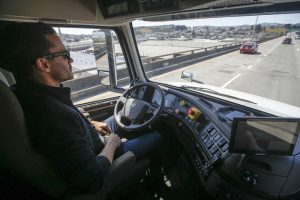 Exercise a Little While on the Road
Prolonged truck driving can result in various discomforts such as numbness of the bottom, tension in the shoulders and cramp in the legs. To rid your body of these discomforts while driving your truck, try to do a few isometric contractions such as raising and holding your toes for a few seconds, squeezing the gluteal muscles of your buttocks and shrugging your shoulders. You can do these exercises repeatedly probably 7 times during a truck driving session. But importantly, be sure you are doing these exercises only when your truck is parked or stationary probably during a pause or a traffic hold-up.
Wind Up the Windows
It's very likely that particles like dirt and dust have mixed up with the fresh air swirling into your truck. To have an adequate current of air entering your truck, you might like to keep the windows wound down completely but if you'd like to avoid excess dust in your truck, try to wind up the windows.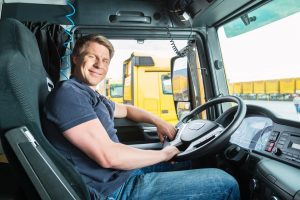 Maintain a Good Diet
Truck driving is, of course, a job that demands sitting for prolonged hours. According to health experts, some truck drivers sustain discomfort probably because they aren't choosing the appropriate diets for themselves. If you spend most of your time on truck driving, chances are that you wouldn't have time to do regular sports. In an instance like this, you'll have to limit your intake of carbohydrates just to prevent your body from storing excess cholesterol or fats.
Maintain an Appropriate Sitting Posture
Some truck drivers embark on prolonged journeys of 10 hours or more. Since you'll be sitting most of the time, try to maintain the perfect sitting posture. Don't strain your buttocks. Ensure they are well positioned. More importantly, always maintain the sitting posture that improves your comfort level while on the road.
Drink with a Straw
If you feel like taking some beverage while driving in hot conditions, you may like to buy the canned one. To prevent the content of the can from spilling on your body, be sure you're using a straw. Drinking while driving your truck tends to be more comfortable when you use a straw.
Cool the Dashboard
While driving in hot weather, the dashboard of your vehicle is likely to get hot. Obviously, this can limit your comfort level while driving the truck but to avoid this situation, provide your truck with a bottle for spraying water mist. Once you observe the weather is getting hot, cool your truck's steering wheel and dashboard by spraying the water mist on them.
Refresh Your Laundry Compartment
Perhaps, you haven't found enough time to wash the used laundry in your truck and more often, You feel uncomfortable perceiving the foul smell oozing from the truck's laundry compartment. Needless to say, you can avoid this smell by simply refreshing the compartment with fragrant substances such as perfumes, sweet-smelling soaps, etc.
Conclusion
These are some very useful ways to drive comfortable while on a long journey. Other than these, you should have the best truck accessories and parts to ensure you have complete control over the truck all the time. Say, for example, having a comfortable truck steering wheel is a must for comfortable truck driving. Having semi-truck fenders, on the other hand, can help you avoid minor accidents.