Before talking about the benefits, there are a few questions that should be appropriately addressed. First of all, what is crawl space? Crawl space is a small area under a floor or roof. This area is made for the safe passage of wires, pipes, and other materials. Every house has a crawl space, but not all residents take responsibility for that area.
People neglect this area of their house, and it is mainly found covered with trash and soaked in moisture. Besides the untidiness, this uncleanliness has many other adverse effects on the whole house.
What is it?
Being practical, you can't clean the crawl space on your own, on a daily basis. The best solution to this problem is encapsulation. Get your crawl space encapsulated by professionals for a safe lifestyle.  
Benefits of Crawl Space Encapsulation
Crawl space encapsulation will provide your home with various benefits. Some of these are described below:
Keeps pests away
Crawl space is the favorite space for pests and insects. They take refuge in the area. Crawl spaces are often flooded with cockroaches, rats, spiders, and other creepy crawlies. 
The worst part is that they won't just stay at the crawl space. They will start invading other places too. Your bedroom, your kitchen, your washrooms, all will be flooded with insects and other pests.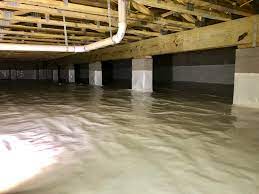 Maintains the Strength of the Walls
An untidy crawl space invites moisture. Especially during the rainy seasons, it will absorb maximum water. Your leaking water pipes will also increase the water content of concrete walls. The absorbed water is hazardous for the walls of any building. Be careful about that.
Crawl space encapsulation will help to prevent water absorption and thus protects your house from collapsing. This is no doubt the most significant benefit of Roanoke crawl space encapsulation.
Provides you with an additional storage space
A clean and encapsulated crawl space can be used for other purposes too. You can keep your unnecessary stuff in the encapsulated crawl space. In short, it will be your go-to storage space.
Prevent the spread of mold
A damp crawl space will be an ideal place for the spread of mold and mildews. Encapsulation will prevent their growth too. Otherwise, the mold can spread to the other part of your house too.
Maintain cold during summer and warmth during winter
Encapsulated crawl space is insulation for your house. It won't allow the heat to escape during the winters, nor the additional heat to enter during the summer.
You will have more comfortable floors
Walking barefooted on the floor is very therapeutic. But the cold floors during winter and hot ones during summer make the experience awful. With encapsulated crawl spaces, you can enjoy cold floors during summer and hot ones during winter.
Provides an overall healthy living condition
Mildews, molds, and pests in a house lead to unhealthy living conditions. Especially their spread to the kitchen is disgusting. Encapsulation prevents the spread or even the blooming of these unwanted things.
If you can planning to get your crawl spaces encapsulated, contact any service providers to get the work done.