Daycare, or preschool, is designed to provide a safe and positive environment for young children as their parents spend their days at work. Daycare is far more than a daily service providing childcare for working parents. It can also be a foundational building block that prepares your child for their first year of kindergarten. Daycare gives children an introduction to the basics and will help to make them familiar with various skills they will be learning once entered kindergarten. But before we take a closer look at what those key skills are, let's first explore some of the advantages of having your child attend daycare before entering kindergarten.
Advantage #1 – Structured Activities
At daycare, there is a regular schedule of activities for your child to engage in. These activities range from songs and storytelling to painting and free play, and all of them foster different types of growth and development. And these structured times will include playing, eating, and napping, at the very least. 
Advantage #2 – Interaction with Peers
Playdates are a lot of work for working parents. Daycare provides young children with daily opportunities to spend time with other children in their age group. In the daycare setting, these interactions are in a safe, structured, and supervised environment where children learn to share, play, and problem-solve together.
Advantage #3 – Parents Receive Social Benefits
Although for some parents dropping their child off to spend the day with strangers can feel stressful, it shouldn't. Studies have shown that even brief interactions between different parents as they drop off or pick up children from daycare produces a sense of community and valuable adult connections.
Advantage #4 – Children Gain Adult Interaction
Typically, in the average young child's life, the only adults they interact with are their parents and other older family members. This is where they learn most things. By going to daycare, children are exposed to adults who are not family members, and this assists with their growth by seeing other adults as mentors.
Advantage #5 – Easier to Transition to Kindergarten
Children who attend daycare daily have a much easier time adjusting to the format of formal schooling. This is because of the introduction of structure that they experience in the preschool environment. A study by the University of Texas at Austin verifies this and that daycare helps children get involved in school life.
How Does Daycare Helps Prepare Children for Kindergarten?
Essentially, there are five main skills that a child will pick up during time spent in daycare. These skills are not only vital to entering kindergarten, but they also build the foundation for molding a young child into a good student and eventually, a productive member of society. Yes, it starts at daycare. Here is a detailed look at the skills that daycare can teach your child as they begin their development into older children entering the public school system at the kindergarten level.
Language Skills
Communication is important and children require the ability to do this before they are enrolled in kindergarten. A daycare service will help your child to expand their language skills to where they can express themselves as accurately as possible and understand things they are being told. Basic vocabulary, forming and completing sentences, recognizing simple words, numbers, and letters as well as learning how to print their name are all language skills taught at daycare.
Motor Skills
One kindergarten readiness indicator is a child's physical development. Daycare offers children the opportunity to use their hands to perform such tasks as writing or drawing and cutting with scissors. These tasks require fine motor control, and this is one of the skills children get to practice in daycare. Children also learn how to hold, bounce, throw and catch a ball. In addition, jumping and running through game activities help children to improve their coordination and gross motor skills through repetition and practice.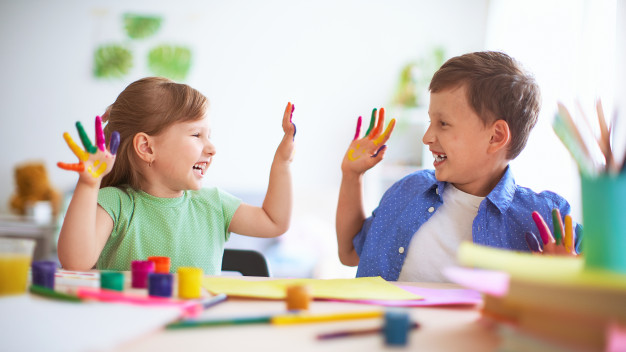 Cognitive Skills
Learning is enhanced when children are taught how to use their cognitive skills. This is done through many simple activities at daycare ranging from solving puzzles, matching pictures or objects, organizing items into different groups, or any other task that requires thinking and solving ability. Another way daycare prepares your child through cognitive skill development is through teaching songs that contain verses, words, and rhymes that are repeated to assist with memory development.
Mathematic Skills
One more kindergarten readiness key is being able to recognize numbers and being able to accomplish easy counting techniques. Terms such as "adding to" and "taking away" are used at the preschool level to introduce the concepts of addition and subtraction, and your child should have mastered a few easy math problems by using both of these skills. Being able to arrange numbers in their proper order and count them out by making math part of everyday activities will also happen at daycare.
Social Skills
A child's daycare setting provides many varied opportunities for a child to expand their social skills with peers. This will include learning how to act appropriately in certain situations as well as the ability to perform simple personal care tasks. These will include using the bathroom and hand washing. Identifying their age, knowing their first and last name and their parent's names all contribute to social skill development. Negotiating and developing peer friendships is a huge part of your child's essential social development, and your daycare provider can facilitate this.
In Conclusion
Daycare, or preschool, is an important step in every child's life. It provides the building blocks that will provide an easy transition into kindergarten. For working parents, being able to ensure that their children will gain the important skills they need to grow and develop into good community members takes a lot of pressure off the family home. Daycare introduces children to concepts, ideas, and skills through various learning tools ranging from play, singing, talking, and eating. Daycare is not a babysitting service. Because they learn best through play and fun, children look forward to going to daycare, where they can build friendships, have interactions, and feel excited about their days!
—
Sandra Chiu works as Director at LadyBug & Friends Daycare and Preschool.