When most people think about the best destinations for hitting the open road astride a motorcycle, well-known routes like those in California (United States), the Great Ocean Road (Australia) and the Pyrenees Loop (France and Spain) immediately spring to mind. If you're looking for a tour that is a little less popular but doesn't scrimp on the beautiful scenery, however, we've covered a handful of rides that you should consider:
1. Scotland Motorcycle Tour
The rugged Scottish Highlands should definitely be a destination that you check out at some point. It's possible to bundle the best that the country has to offer in a weeklong journey, usually starting and ending at Edinburgh. Booking your Scotland bike tour in August and September will ensure that the roads are quieter, plus there are fewer midges and the weather is generally better too.
There are a number of highlights that we definitely recommend taking the time to check out, including Hadrian's Wall (an ancient barrier built more than 2000 years ago), various whisky distilleries (from Talisker to Tomintoul Glenlivet), the jagged foothills of Cuillin, and the Isle of Skye, the NC500 (Scotland's version of Route 66), and the famous Loch Ness.
2. Nova Scotia Bike Rides
If one Scotland motorcycle tour wasn't enough, head to Nova Scotia in Canada where an interesting blend of Canadian, French, and Scottish culture still exists. It's possible to see the region in around 10 days, or even 7 if you're short on time. Late spring, summer, and early autumn are all popular times to travel – just be prepared to pack some warmer layers for cooler evenings.
The list of highlights is seemingly endless! Nova Scotia is known for its long stretches of sandy beaches (including Rissers and Crystal Crescent), Cabot Trail (a 300km loop that rings the northwest coast), Annapolis Valley (known for its lush orchards and award-winning wineries), the Citadel National Historic Site in Halifax, and the rich history at the Fortress of Louisbourg.
3. Malaysian Motorcycle Tour
The Cameron Highlands, a mountainous area of Malaysia, is actually home to some of the best biking roads in Asia. The country is also now known as one of the safest in Asia, making it a no-brainer when planning a trip. There are plenty of regions to explore – spend a few days seeing the sights or plan a longer holiday that will allow you to take everything in.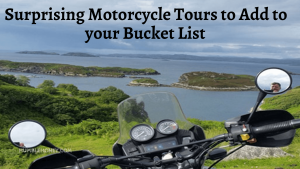 Some of the highlights that we recommend checking out in Malaysia include the busy shopping malls of Kuala Lumpur to bring home a souvenir (or 10), the many wildlife parks and jungles of Borneo, the beautiful tea fields of the Cameron Highlands, the superb beaches in the country's east (just avoid during monsoon season), and the animal-rich Kinabatangan River.
4. Brazil Bike Rides
There are actually a number of routes to enjoy in Brazil, the most popular being Rota Romantica (or the 'Romantic Route'), which winds from Sao Leopoldo to Sao Francisco de Pallia for 184km. The weather is almost always very travel-friendly here, with warm sunny days and clear chilly nights. The culture in this country is rich and adventurous – you're sure to feel right at home!
There are so many highlights to enjoy in Brazil, starting with Rio de Janeiro (in particular Christ the Redeemer and Sugarloaf Mountain). Carnival, the largest party in the world, is held each February. The country's northeast is also a fantastic place to visit, particularly if you prefer fewer crowds. Finally, you cannot come to Brazil without experiencing Churrascaria (Brazilian BBQ) at least once.
5. Japan Motorcycle Tours
The mystic roads of Japan are the perfect destination to explore – every new vista is sure to take your breath away. The islands are accessible via ferry, allowing you to take your bike wherever you fancy. Whilst the general roads are free, keep in mind that the express highways can cost a small fortune to use – so getting around can be slow going, but all the better to take in your surroundings.
There are so many highlights to check out during your Japanese tour, it's hard to narrow down just a few of our favorites. Check out the former capital, Kyoto, where you'll find temples everywhere you turn; pay your respects at the Hiroshima Peace Memorial; take a break from your motorcycle and climb beautiful Mount Fuji; relax in a traditional Onsen; and finally, be sure to enjoy the delicious local cuisine.
No matter what destination you've chosen to visit, rest assured that there will be an amazing bike ride of some kind to be had. Whether you prefer the well-beaten bitumen winding along Victoria's coast on the Great Ocean Road or you want to try something different like Scotland bike tours, you won't be disappointed. The team at Viktorianz can customize a tour to suit your needs and holiday length – contact us for more.
Read more: How to Buy the Right Motorcycle Parts Online