France is a fantastic holiday destination, but its potential for a business location can often be overlooked, because of outdated stereotypes.
Now, thanks in part to President Emmanuel Macron's pro-business policies, there should be no doubt that it is more than interesting to consider setting up a business in France. Although, if you do need any additional convincing, we've listed below our favorite reasons to start a business in France.
Business friendliness
Macron's recent reforms have largely helped businesses, by giving more power to the employer, but this is just the beginning. Macron aims to introduce more reforms to make France's economy more competitive, including an increase in working hours, reductions in corporation tax, and additional help for unemployed people to rejoin the workforce.
If you're concerned about starting a business in France because of potential bureaucracy, or because you don't know anything about VAT in France nor about the taxes in France, don't worry. What you should do is hire an English-speaking French accountant, who knows the system, knows how to navigate the legalese and put it in a language you understand.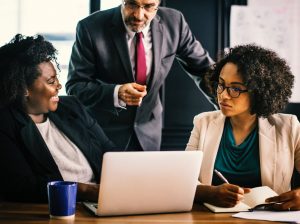 EU Access
If you're currently based outside of the EU or in the UK, then you'll be happy to know that France is one of the strongest EU members, with Macron seen as an EU figurehead. That means that doing business in France will probably allow you to benefit the most from future economic and business policies.
Why is EU access important?
Free movement of people, allowing you to access talent from across the EU
Free movement of goods, so you can trade within Europe without tariffs and restrictions
Stability of the single currency
Single point of contact for VAT
Benefit from trade deals negotiated by the EU with hundreds of countries
Location
You probably already know about France's stunning countryside and incredible cultural sites, but do you know about France's amazing transport links? Yes, that's right. No matter the location of your business, it'll be easy for your clients, employees, and goods suppliers' to access via public transport or by road.
On a wider scale, France is also in a good position globally, because it is close to the UK, which is one of the world's biggest economies and a key consumer market, has easy connections across Europe and is not that far from the growing African market.
As an added bonus, if you're running a tourism business, the location will be the chief reason that your clients choose you.
Prestige
While France is a great place to live and work, it's also a great place to base your company because the 'Made in France' label can set you apart from your competitors and serve as a marketing tool of its own. After all, the things you associate with France – great food, relaxed atmosphere, sophisticated fashions – will be something that your customers' subconsciously recognize too.
This is particularly relevant to the exports that France is famous for, i.e. food, fashion, and perfume, but also to France's less famous areas of expertise, like aerospace, chemicals, pharmaceuticals, and farming. Depending on your company, you can also apply for one of France's official accreditation schemes, which will further boost the prestige of your items.
Food
Unless you're running a restaurant, winery, or similar business, food may be low on your list of priorities. However, its actually a microcosm for the French way of life. Here are some business-relevant lessons, picked up from French restaurants:
French lunches can be two hours long, while dinners can take most of the evening, but if something's worth doing, it's worth doing right.Bon Appétit et bon travail.
French restaurants may have separate chefs to cook roasts, fish, grilled foods, soups, vegetables, sauce, pastries, candies, etc. The policy of choosing specialists in their fields rather than a jack-of-all-trades is done in order to make sure they're putting out the best product possible.
Consider pairings carefully:
The French do an excellent job of pairing wines with their food because they know that it has to be the right pairing and not just any wine will do with any dish. This is something you should consider when hiring staff, getting clients, or choosing partners. They have to enhance your business.
This article shows you some of the best reasons to start a business in France, but I'm sure that you have you're own personal, perhaps better, reasons for making the move.