While some majors may not spend anywhere near this amount, the heavier textbooks that are required for classes such as math and science come with a higher price tag.
Read on for the five best ways you can save money on your college books.
1. Buy Used Books
This is something college students have been doing for quite some time. Whether you look for used copies in your college book store or search online, students can save quite a bit of money by not purchasing new. Often times, these copies are in like-new condition, meaning that the only difference between purchasing a new copy and buying used is the matter of a few highlighter marks.
While many students will be tempted to simply stop by their college book store to search for used copies, there is a higher probability of finding a lower price by searching online. College bookstores will often have higher prices for the convenience of being able to find all the books need for each class in one location.
Instead, students should turn to online stores to save even more money on their used books. The easiest way to do this is to search by ISBN number. Because these are specific to each book, the number will locate the exact edition that will be needed for each class.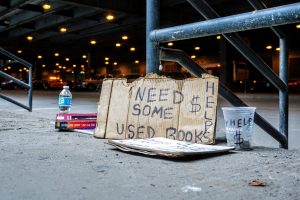 Remember, when you are finished with the class, you too can sell textbooks for a profit.
2. Share
If you have a friend taking the same class as you, many students opt to split the cost and share a copy of each of the books with a friend or roommate. It will take some schedule-making in order to determine when each person will have access to the books, however.
In addition, you may want to find out the teaching style of the professor you will have before you decide to do this. While some professors will use class time for lectures, others will require each student to have their textbooks with them.
3. Sell Your Books
Unless it is a book you will want to keep long-term and possibly use in your future career, some students choose to sell textbooks when they are finished with the class. Most often this is the case with introductory classes, which covers a broad scope of the subject area and may not be as helpful to you later down the road.
4. Rent
Renting books can be a money saver for many classes, especially those that require more expensive books. While this option may require you to work with your college bookstore, it may be well worth doing so to save the extra cash.
When considering renting your books, you should make sure to read the contract over thoroughly and ensure you understand all the terms. Many places will require you to take special care of the books in order to be able to return them.
In addition, you should do some research beforehand and determine how much money you could save if you purchased a copy and sold it afterward. In some cases, this may be a cheaper option than renting.
It is important to note that renting books is not always the cheapest way to go when looking at college book costs, but it can be quite a money-saver when done right.
5. Check Your Local Library
While not every book you need will be available through your local branch of the library system, checking ahead of time will mean you can make use of the interlibrary loan option. This allows libraries to borrow books from each other, meaning you have access to books that are owned by other libraries and do not need to visit each branch to check them out.
In addition, many libraries now have access to e-books, which you can access from your personal computer with the help of your library card. Doing this will allow you to read the books online or on an e-reader, and even print out anything you want to keep.